Trip Details & Highlights
Dramatic landscapes, steep gorges, high peaks and semi-tropical valleys
Roque Nublo – A distinctive rock formation and Gran Canaria`s famous landmark
Walking within the Tamadaba National Park with the Unesco Biosphere reserve
Hiking the best parts of the GR 131 – A long-distance trail through the Canary islands
Beautiful unspoilt villages with the best local hospitality
Trip Details
Gran Canaria is truly an island of extremes. It is of course well known for its popular beach resorts and year-round temperate climate, but we introduce our groups to a wonderfully different aspect of this diverse Canarian island on the Hiking Highlights of Gran Canaria.
It offers amazing path networks which allow for superb walking within the dramatic mountainous interior including natural parks, spectacular gorges, distinctive rock formations and true Canarian hospitality in the picturesque villages where we sample local speciality dishes.
Wintertime and early spring in the Canary Islands are a great time to choose a walking tour as the temperatures are still warm and pleasant but generally without being uncomfortably hot for walking.
We carefully select all our accommodation which is a mix of modern and traditional apartments and hotels within beautiful coastal and mountain villages so that our clients feel immersed in the local culture.
What`s included
7 nights accommodation
Interpretation centre entrance fees
Backup Car for the whole trip
2 group dinners and 4 breakfasts
Baggage transfer daily
Taxi/Van transfer where applicable
6 guided walks with one or two experienced and friendly guides (qualified mountain leader)
What`s not included
all meals other then specified
Travel insurance (highly recommended)
Flight to Gran Canaria & Return
Dates
PRICE
£899 pp
Single supplement: £200 pp
Discount available for 3 or more people
AT A GLANCE
Group size: 3 – 7
6 days walking
Difficulty:
Deposit: 20 % of the full amount
Start: Gran Canaria Airport
Finish: Gran Canaria Airport
Extension possible
ACCOMMODATION & MEALS
7 nights in Apartments/Hotels
4 breakfast
2 dinners
Day by Day Itinerary
Day 1 – Join trip and transfer to Agaete in the north
Pick up from the airport (or your accommodation if arriving on earlier days). Transfer to Agaete/Puerto de las Nieves which is an attractive traditional village and fishing port in the north of Gran Canaria where we spend two nights. Here you will have free time to explore.
The villages have lovely small churches and a small fascinating botanical garden hidden away in the old town of Agaete.
Don't miss the beautiful Agaete natural pools – protected seawater pools that are perfect for a refreshing dip with manmade stairs and ladders blending in with the crystal clear water.
There are plenty of nice seafood cafes in the port for dinner as well as a supermarket. We will have an informal meet and greet and introduction to the week before dinner.
Walk details: optional walk possible
Day 2 – High up into the Pine Tree Forest of Tamadaba Natural Park
We begin our tour with a walk that incorporates a linear route from San Pedro to Puerto de las Nieves
This is a lovely hike up high into the beginning of Tamadaba forest with a combination of good rocky path and then forest path culminating with a picnic lunch stop at our high point.
We then begin our fairly long steep and wonderful descent on a good rocky trail with lovely views of the surrounding rock faces valleys and villages and finish with a much-deserved refreshment at a small local bar in Puerto de las Nieves.
Walk details: 9 km/ 5.5 miles | approx. 3 – 4 hours | ↗ 500 m/2460 ft | ↘ 500 m/3280 ft
Day 3 – Along the ridge to Artenera and volcano crest
Another exciting day on the GR131 route from Tamadaba to Cruz de Tejeda. We transfer you by van to the Tamadaba Forrest for the start of this lovely walk.
We follow the high undulating mountain forested crest of Tamadaba arriving halfway for lunch in the attractive mountain village of Artenera which stands at 1200 meters.
Artenara is home to many lovely miradors with outstanding views and a gorgeous museum. We allow time to explore this picturesque village.
We continue our route after your leisurely lunch stop with a steepish ascent up and along a wonderful ridge with simply stunning views of the surrounding mountains to finish in Cruz de Tejeda, which sits at a high point of 1450 meters (higher than Ben Nevis!).
Walk details: 17 km/ 10.5 miles | approx. 6 – 7 hours | ↗ 1000 m/3280 ft | ↘ 670 m/2200 ft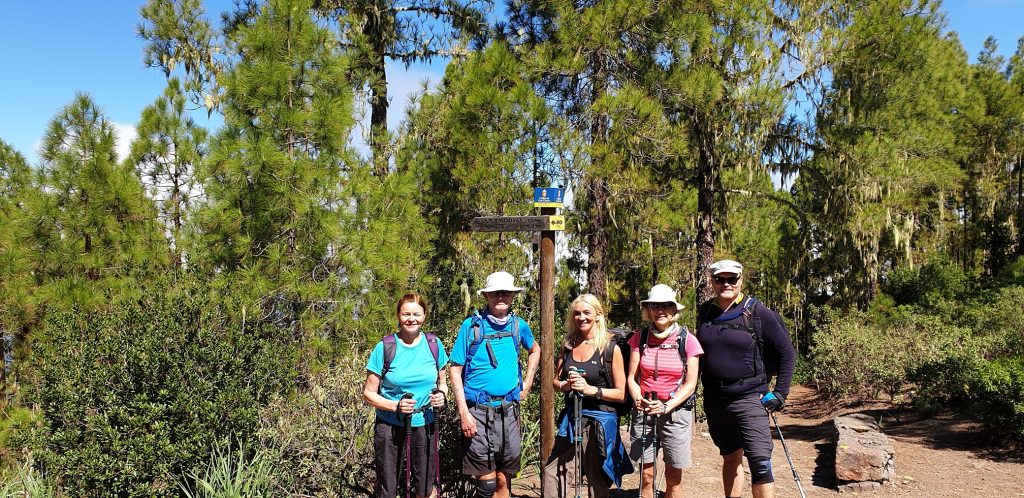 Day 4 – Walking on old ´Caminos Reales´ towards the South
Today we continue our route on the GR131 walking from our hotel in Cruz de Tejeda to San Bartolome.
We stay on a high mountain crest with an option of a detour to the highest point on the island – Pico de las Nieves at 1950 meters. (optional 1 extra hour round trip Weather permitting). We are treated to many stunning views along the route today.
We descend to Cruz Grande via an old steep zig-zag cobbled path with amazing engineering, before our final descent into the mountain village of San Bartolome where we have a refreshment in one of the local bars before our van transfer to Fataga.
Walk details: 15 km/ 9.5 miles | approx. 6 hours | ↗ 300 m/985 ft | ↘ 910 m/2985 ft
Day 5 – Crossing ardent valleys towards Santa Luica via Fortaleza
Walking from the pretty village of Fataga to the equally lovely village of Santa Lucia! We ascend over the crest from Fataga and head through undulating valleys and then up to La Fortaleza, one of the most important archaeological sites in Gran Canaria.
We visit an interesting interpretation centre to hear about the fascinating Fortaleza history.
We continue in the afternoon via a large cave which was part of the ancient Fortaleza settlement and then onto fairly level paths to bring us into Santa Lucia where you will have time to explore the village.
Walk details: 13 km/ 8 miles | approx. 5 hours | ↗ 500 m/1640 ft | ↘ 500 m/1640 ft
Day 6 – Gran Canaria`s famous landmark – Roque Nublo
Today the Hiking Highlights of Gran Canaria route takes us along good paths with great views once again of the surrounding mountains and countryside up to the stunning and probably most famous volcanic pinnacle landmark of Roque Nublo which is protected as a natural monument
A lovely spot for packed lunch and photos with extensive views. We then descend to La Caleta for a local refreshment, before continuing our walk on a delightful balcony path to the stunning mountain village of Tejeda.
Walk details: 12 km/ 7.5 miles | approx. 5 hours | ↗ 500 m/1640 ft | ↘ 750 m/2460 ft
Day 7 – Exploring a steep sided valley and cave dwellings
A fascinating walk from the village of Santa Lucia with a steady ascent up the hillside and then down into to the lovely Barranco of Guayadeque for a late lunch in the renowned Guayadeque cave restaurant which is dug into the mountainside.
With Guayadeque being a stronghold for the islands original cave inhabitants this is historically an important and interesting area to end our walking tour of the island.
We include a visit to the Guayadeque museum which gives an incredible insight into how people lived on these islands throughout the ages.
We have a short transfer to the small town of Aguimes where we have our last night together and a celebratory dinner.
Walk details: 9 km/ 5.5 miles | approx. 3 – 4 hours | ↗ 650 m/2130 ft | ↘ 350 m/2130 ft
Day 8 – Trip ends in Aguimes/Ingenio or extension starts
Today it's time to say goodbye from the Hiking Highlights of Gran Canaria trip. We can transfer you on this day for your flight home or to your ongoing accommodation if staying a couple of days longer on the island (recommended for some relaxation time!)
Walk details: no walking today
Gallery Hiking Highlights of Gran Canaria