Trip Details & Highlights
Spectacular Stac Pollaidh ascent
Cul Mor mountain with stunning sea views
Ullapool hill circuit with village and loch views
Folk music in Ullapool village on the shores of Lochbroom
Trip Details
The Assynt Mountain Adventure starts in Inverness. After a pick-up in town, we transfer you via the beautiful village of Ullapool to the start point of our walk-up spectacular Stac Pollaidh, a stunning ridged mountain with a rocky crest and iconic stature.
After completing our circuit, we return to Ullapool, where you will be staying for 2 nights in your chosen accommodation. The village is in a lovely position beside Loch Broom and offers regular folk music, and serves up an abundance of fresh seafood in its friendly pubs and restaurants.
On day two, we drive the short distance to begin our ascent of the magnificent twin-summited Col Mor. The panoramic views from the top of this mountain which is the highest in the area are simply outstanding, with extensive views out to the summer isles in the Atlantic and also across the lochan dotted landscape to the surrounding mountains.
Before returning to Ullapool, we have a short stop at the small Knockan Crags Nature reserve interpretation centre, where you can learn about millions of years of the fascinating geological history of the area.
On day three, we take the lovely circuit walk up onto local Ullapool hill, which overlooks the village and includes a section down to the mouth of Loch Achall and some beautiful river falls, before transferring you back to Inverness for your homeward journey. A fantastic introduction to the impressive mountains of Assynt!
What`s included
3 days guiding with a fully qualified mountain guide
2 nights accommodation in your choice of hostel or B&B (trip also available without accommodation)
The teaching of basic navigation and mountain safety (if requested)
Insight into the history and flora and fauna of the hills
Transfer from Inverness and back
All transfers within trip in comfortable 9 seater van
What`s not included
Transport to Inverness
Travel insurance (highly recommended)
All meals (apart from breakfast in B&B option)
Dates
17/03/23 – 19/03/23
12/05/23 – 14/05/23
05/06/23 – 07/06/23
11/08/23 – 13/08/23
14/08/23 – 16/08/23
or on request
prices
£269 pp – Hostel/Bunkhouse
£349 pp – B&B/Hotel (single supplement £50 pp)
£199 pp – without accommodation
Group size: 3 – 7
3 days walking
Difficulty:
Deposit: 20 % of the full amount
Start: Inverness 10 am
Finish: Inverness 3 pm
Extension possible
ACCOMMODATION & MEALS
2x nights accommodation as chosen
Day by Day Itinerary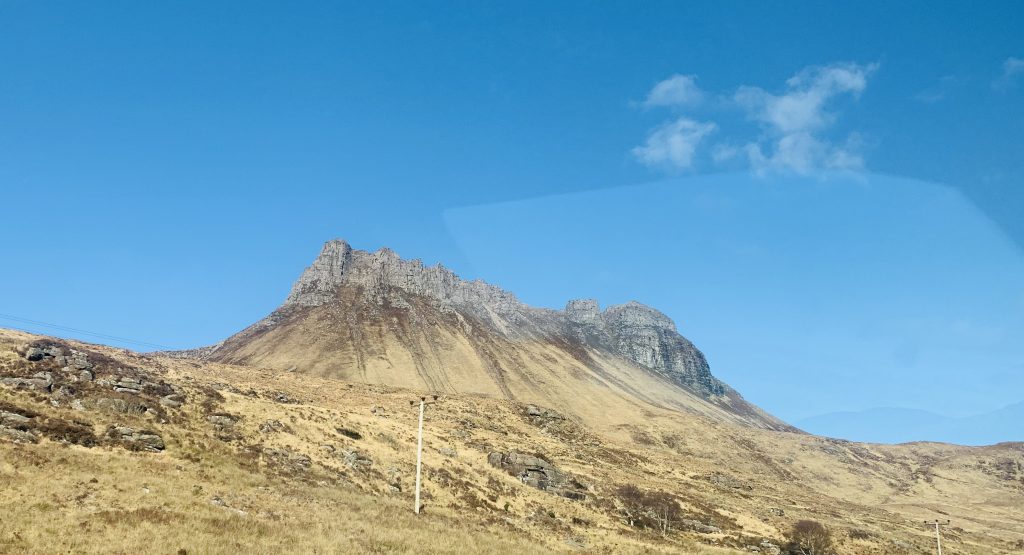 Day 1 – Stac Pollaidh ridge and circuit
We begin our Assynt Mountain Adventure with an ascent of spectacular Stac Pollaidh, a fine hill with its iconic sandstone pinnacles standing out prominently against the surrounding Assynt landscape.
A well constructed steep rocky path rises up to reveal impressive views of Cul Mor, Cul Beag and Suilven as we reach the ridge from where it's just a short ascent up onto the east summit. The circuit may be short in distance but the steepness of the terrain demands plenty of time!
Walk details: 4.5 km/ 2.75 miles | approx. 2.5 -4 hours | ↗ 510 m/1673 ft | ↘ 510 m/1673 ft
Day 2 – Cul Mor and Knockan Crags
Today we have an exciting mountain ascent of Cul Mor. This twin summited hill is the highest in the area of Wester Ross at 849 metres high. Our steady ascent includes a short section over a boulder field which involves a bit of 'hands-on' over the rocks before we reach the summit top.
The view out to sea and of the surrounding landscape is stunning. We continue along the ridge of Sron Ghabh to reach the furthest North West point and also ascend the small Southern peak of Creag nan!
After slowly descending, we take the short hop along the road to Knockan Crags National Nature Reserve where if time allows, we can do the 2km walk along the crags here with sculptures and poetry bringing the ancient fascinating geology of the area to life.
Walk details: 13.5 km/ 8.5 miles | approx. 5.5 – 6 hours | ↗808 m/2650 ft | ↘ 808 m/2650 ft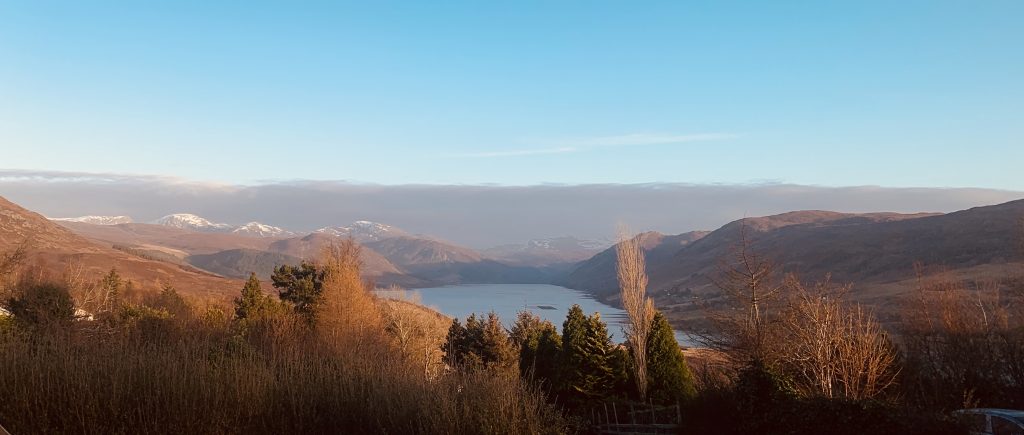 Day 3 – Ullapool hill circuit
On day three we walk directly from the village on this lovely circuit walk up onto Ullapool hill which offers tremendous views over the village and down to Loch Achall.
There are many paths around the area but our route takes us down to the mouth of the Loch and also allows time at some beautiful river falls before returning to the village. Then it's time to transfer you back to Inverness for your homeward journey hopefully leaving you with the memories of a fantastic hiking trip in the mountains of Assynt!
Walk details: 8 km/ 5 miles | approx. 2 – 3.5 hours | ↗ 300 m/984 ft | ↘ 300 m/984 ft
Gallery Assynt Mountain Adventure