Trip Details & Highlights
Relaxed walking through the Sierra de Tramuntana in northwest Mallorca on Hiking Highlights of Mallorca
Explore the beautifully traditional Mallorcan villages of Deia and Fornalutx
Walk on the historic Pilgrims Path and watch Black and Griffon vultures soar at Cuber
Walk to Cala Tuent, the largest unspoilt beach in the Tramuntana
Airport transfers and local transport included
Trip Details
Mallorca is the largest of the Balearic Islands and offers a diverse variety of exciting walking opportunities.
From stunning coastal walks to Rocky Mountain interiors and quaint villages there really is something for everyone on our Hiking Highlights of Mallorca.
On our guided walking tour based in the lovely western coastal village of Port de Soller, we stay at the friendly 3* Hotel Eden Nord in a quiet location and just a few minutes walk to the beach, bars, and restaurants.
We enjoy a selection of delightful day walks, with each walk offering discoveries around every corner.
Within this tour, we include sections of the GR221, a long-distance trail stretching from the south to the north of the island.
We include some special late lunches in beautiful locations, allowing ample time to explore villages and sample local culture.
The walking trip will use private transfers and public transport to support our sustainability efforts.
What`s included
7 nights accommodation
3x Lunch (3x course including wine)
1 group dinner and 7 breakfasts
Airport Transfer to accommodation and return
Transfers/Public Transport where needed within the week
6 guided walks with one experienced and friendly guide (qualified mountain leader)
What`s not included
All meals other than those specified
Travel insurance (highly recommended)
Flight to Palma de Majorca & Return
Dates
15/03/24 – 22/03/24
07/04/24 – 14/04/24
PRICE
£1279 pp
Single supplement: £140 pp
Discount available for 3 or more people
AT A GLANCE
Group size: 3 – 10
6 days walking
Difficulty:
Deposit: 20 % of the full amount
Start: Palma de Majorca Airport
Finish: Palma de Majorca Airport
Extension possible
ACCOMMODATION & MEALS
7 nights in Apartments/Hotels
7 breakfast
3 lunch
1 dinner
Day by Day Itinerary
Day 1 – Arrival and transfer to Port de Soller
Pick up from the airport Palma de Mallorca (or your accommodation if arriving on earlier days). Transfer to Port de Soller, an attractive traditional village and fishing port northwest of Mallorca, where we spend seven nights. Here you will have free time to explore.
Plenty of nice seafood cafes in the port for dinner, and small supermarkets are within walking distance of the Hotel.
We will have an informal meet and greet and introduction to the week before dinner (included).
Day 2 – Port de Soller to Fornalutx
From our Hotel in Port de Soller we follow the road out of the village and up through the beautiful valley of San Figuera.
We join an old path through lovely shady olive groves which rises steeply for a short time before levelling out and we then enjoy a gentle descent into the beautiful village of Fornalutx.
There is plenty of time to enjoy this charming village perhaps with a stop for lunch at one of the lovely bars/restaurants.
The local bus back to Port de Soller runs regularly throughout the day.
Walk details: 8 km/ 5 miles | approx. 2 .5 hours | ↗ 300 m/985 ft | ↘ 150 m/500 ft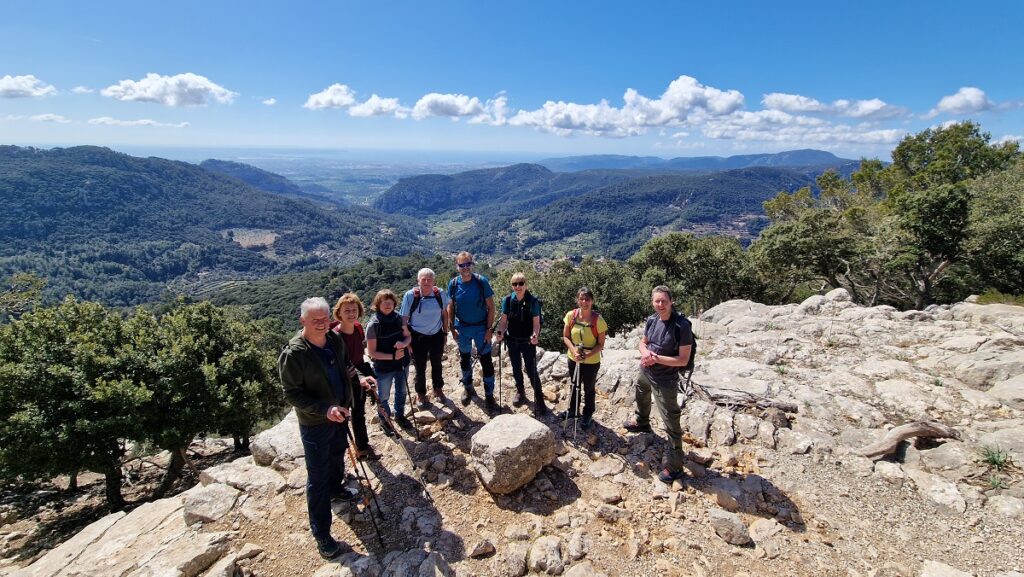 Day 3 – Port de Soller to Deia
Today we walk a section of the GR221 long distance trail to Deia.
On leaving the village we join a well-constructed path ascending through olive groves and are treated to a lovely view down to the harbour of Port de Soller.
We continue our gradual ascent eventually reaching the Finca Son Mico, a super place to take a break and perhaps enjoy a freshly squeezed Orange juice and some homemade cake from its delightful panoramic terrace.
Our continuing path is once again cobbled and gives us a pleasant walk to the gorgeous village of Deia where we sit down to an excellent included lunch.
There is time to explore the village at your leisure before taking the local bus back to Port de Soller.
Walk details: 12 km/ 7.5 miles | approx. 4 hours | ↗ 410 m/1345 ft | ↘ 250 m/820 ft
Day 4 – Cuber Reservoir to Soller
This memorable walk begins at the picturesque Cuber reservoir and takes us past beautiful mountain scenery with the possibility of spotting black vultures that may be seen circling overhead.
Continuing our route down to Soller, we eventually find ourselves on a well-constructed ancient pilgrim path that zig-zags down through a spectacular gorge with sheer cliffs on either side.
We eventually reach the small pretty village of Biniaraix where we can stop for a refreshment at the quaint village bar. We then continue to the town of Soller where we take the old fascinating tram dated from 1912 on a lovely short journey back to Port de Soller.
Walk details: 14 km/ 8.7 miles | approx. 5 hours | ↗ 225 m/740 ft | ↘ 1030 m/ 3380 ft
Day 5 – Vallledemossa & Archduke's Way
This circuit which starts in the lovely village of Valldemossa takes us along the Torrent d'Avall (Cairals Valley) before ascending quite steeply before reaching a small picnic spot where we can take a short break.
We then continue ascending and find ourselves on the stony bridle path of Archduke Ludwig Salvador. This beautifully constructed path zigzags up towards Puig Gros at 938 metres elevation from which you can enjoy super views down onto the roofs and Bay of Deia and further along views of the bay of Palma.
We eventually descend, winding our way down a pleasant path to return to Valldemossa where we enjoy a wonderful late lunch which is included at a delightful restaurant in this scenic village.
You have plenty of time to explore Valledemossa before taking the local bus back to Port de Soller.
Walk details: 12.5 km/ 7.7 miles | approx. 4.5 hours | ↗ 600 m/1970 ft | ↘ 600 m/1970 ft
Day 6 – Mirador de ses Barques to Cala Tuent
This lovely classic hike begins at the Mirador de Ses Barques and takes us high above the sea with indented coastal landscapes and beautiful views.
Steady walking on broad tracks and mule paths with ascents and descents on undulating terrain eventually brings us down to the beach at Cala Tuent with its crystal clear waters offering an ideal opportunity for a swim.
We enjoy a delightful included lunch at the Restaurant Es Vergeret here before embarking on a beautiful boat trip back to Port de Soller.
Walk details: 10.5 km/ 7.5 miles | approx. 5 hours | ↗ 280 m/920 ft | ↘ 670 m/2200 ft
Day 7 – Cuber to Lluc Monastery (optional day or rest day)
We once again take in a section of the long-distance GR221 trail from the Cuber reservoir.
The walk starts gently with a gradual ascent and wonderful views back down to the reservoir before a fairly long strenuous ascent up to the Coll des Prat at 1205 metres with superb open views.
We descend to the Col des Telegraph and wind up another path to the Coll de ses Cases de Neu. We are soon treated to views of the sea on the left before we begin our lovely descent on a restored path and finish on a forest track before reaching Lluc monastery.
You will have time to explore this beautiful complex, including a botanical garden, a beautiful church and a few bar restaurants. We then have a transfer back to Port de Soller.
This day can be optional or as an alternative depending on the weather and dynamic of the group, we may offer an easier circuit around Lluc Monastery.
Walk details: 15 km/ 7.5 miles | approx. 5 hours | ↗ 800 m/2630 ft | ↘ 870 m/2850 ft
Day 8 – Final Goodbyes from Hiking Highlights of Mallorca
Today, it's time to say goodbye to the Hiking Highlights of Mallorca trip and your guide.
A transfer on this day to the airport is included for your flight home or to your next accommodation. You may want to stay a couple of days longer on the island (recommended for some beach time!)
Walk details: no walking today
Gallery Hiking Highlights of Mallorca