Highlights & Trip Details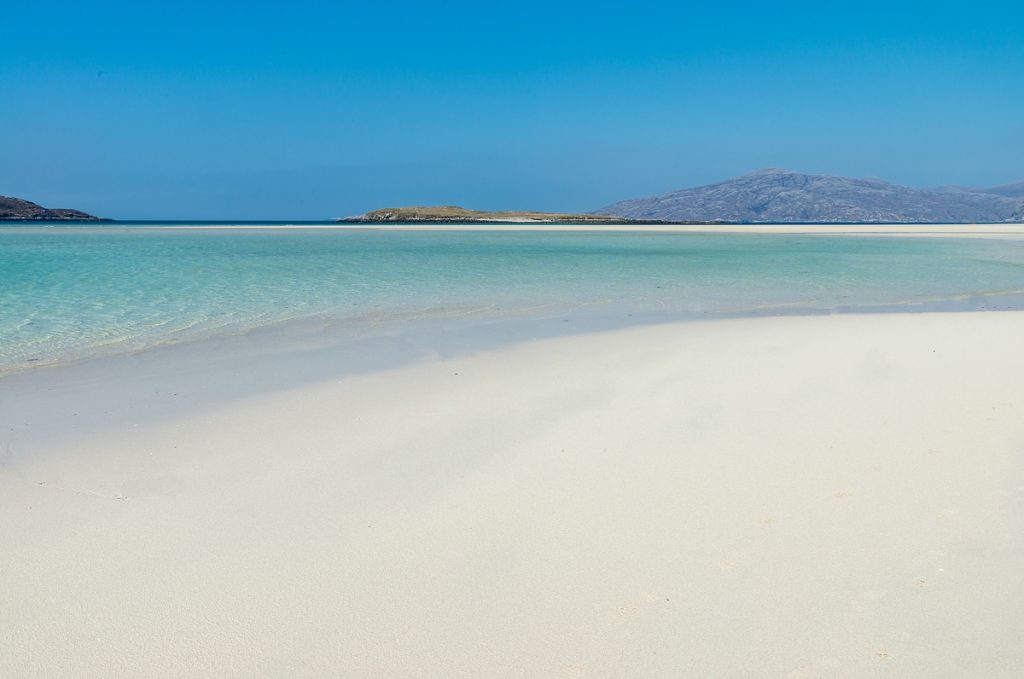 Spectacular pristine white sand beaches and turquoise seas
Archaeological wonders including the ancient Callanish Standing Stones
Discover the lunar landscapes and dramatic mountains of Harris
Flora and fauna of the unique machair in stunning dune grasslands
Trip Details
The Lewis & Harris Walking Adventure offers rugged mountain walks leading down to the most beautiful and unspoilt beaches you will find anywhere in the world, stunning cliff-side paths and fascinating archaeological and historic sites. We incorporate exciting walks, history and culture, and offer an inspiring insight into the local industry and the island people.
The Outer Hebrides, also known as the Western Isles are a group of wonderfully diverse Scottish islands in the most north-westerly part of the UK.
This exciting 8-day Lewis & Harris Walking Adventure also includes a walk-in amongst the otherworldly landscape of the Quiraing on the Isle of Skye on our last day, culminating with an overnight stay in the picturesque coastal village of Plockton back on the mainland.
What`s included
7x nights accommodation in B&B/Hotel
7x breakfast
7x dinner
minimum of 7 guided walks
All ferries throughout the trip
Transfer throughout in comfortable 9 seater van
All museum entry fees
Distillery tour and tasting
One experienced and friendly guide (qualified mountain leader)
Pick up / Drop off Inverness
What`s not included
Meals other than specified
Miscellaneous personal expenditure – drinks and souvenirs etc
Travel insurance (recommended)
Flights or trains/bus to Inverness
Dates
14/05/2024 – 21/05/2024
11/06/2024 – 18/06/2024
PRICE
B&B/Hotel: £1799 pp including dinner
B&B/Hotel: £1549 pp excluding dinner
Single Supplement: £250 pp
AT A CLANCE
Group size: 4 – 8
7 days walking
Difficulty:
Deposit: 20 % of the full price
Start: Inverness 8 am
Finish: Inverness 12 pm
Extension possible in Inverness
ACCOMMODATION & MEALS
7 nights B&B/Hotel
7 breakfast
7 dinner
Day by Day Itinerary
Day 1 – Arrival & Butt of Lewis lighthouse cliff top walk
After airport/station/Inverness city pickups we drive to the lovely north-west coastal village of Ullapool.
Here we take the 2.5-hour relaxing ferry in the morning over to Stornoway on the Isle of Lewis, where we drive to the north to begin an afternoon circuit walk at the Butt of Lewis Lighthouse.
This is the most north-westerly point of the island and indeed the whole of the UK, with clifftop views, plenty of birdlife and interesting lighthouse history. We return to Stornoway where we have 2 nights in a B&B/small hotel.
Walk details: 6.5 km/ 4 miles | approx. 2 hours | ↗ 150 m/490 ft | ↘ 100 m/330 ft
Day 2 – Hiking and history on the West of Lewis
Today we head to the west of the island where we have a lovely high-level coastal walking route with fantastic seascapes and passing stunning beaches which eventually brings us to the incredible Blackhouse museum village, where you will have time to explore this reconstructed village and learn about its fascinating history.
On this day we also visit an ancient stone Broch at Carloway and also Arnol Blackhouse. On our return to Stornoway, we may have time for a short visit to Lews Castle museum and also the poignant Iolaire memorial monument. Lots crammed into this varied day!
Walk details: 7-9 km/ 4 – 5.5 miles | approx. 3 – 4 hours | ↗ 350 m/1150 ft | ↘ 350 m/1150 ft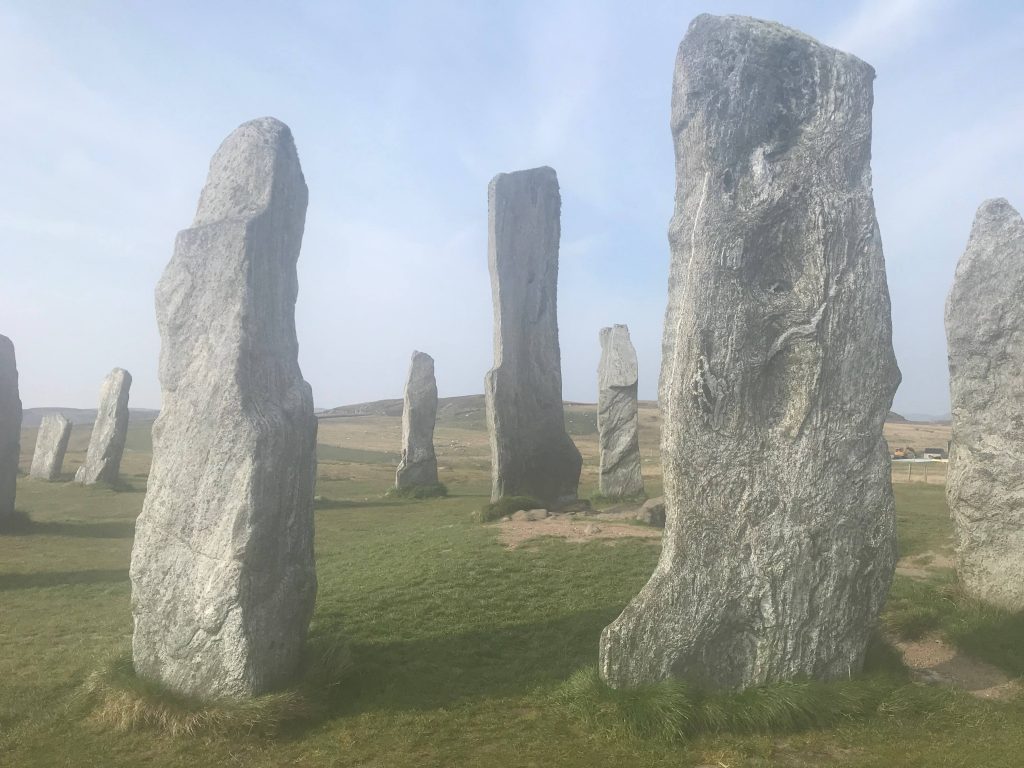 Day 3 – Lewis chessmen and Callanish standing stones
Today we leave Stornoway and head to south-west Lewis where we visit the beautiful bay of Uig sands, where the renowned Lewis Chessmen were discovered. Then we head to Mangersta nearby and take a short walk to visit a unique secret Bothy which sits in an outstanding position.
We depart Uig and before heading down to Harris, we take a visit to the 5000-year-old Callanish Standing stones, not to be missed! In the afternoon, we head south to Harris and do a wonderful walk on a rugged historic path from Rhenigidale to Urgha.
Short transfer to the village of Tarbert for our 3 night stay.
Walk details: 8-10 km/ 5 – 6 miles | approx. 4 – 5 hours | ↗ 450 m/1480 ft | ↘ 450 m/1480 ft
Day 4 – Beinn Dhubh ascent and Luskentyre beach
Today we begin with a fantastic distillery tour and tasting of the renowned Harris Gin and (soon to be available for sale) malt whisky in the village of Tarbert. We then drive a short distance to begin our ascent of Beinn Dhubh mountain.
This interesting off-path ascent takes us up onto a long wide ridge which offers simply stunning views of the North Harris mountains on one side and beautiful Luskentyre beach and the island of Taransay on the other.
After reaching the summit cairn we descend gradually, on to the sweeping white sands of Luskentyre beach where there is time to enjoy a paddle (or perhaps a swim!)
Walk details: 11.5 km/ 7 miles | approx. 4 – 5 hours | ↗ 575 m/1890 ft | ↘ 575 m/1890 ft
Day 5 – Hiking at Huishnish
Today we begin our walk at the road end by beautiful Huisinish beach on the west coast of Harris, which takes us up onto a fantastic stony balcony path to the remote Crabhadail .
We continue to yet another stunning beach with views onto the island of Scarp before rejoining our inbound path back to the beach at Huisinish.
Possible option of an extra late afternoon walk on the island of Scalpay (over the bridge from Tarbert) or time to explore Tarbert village and it's Harris Tweed shop.
Walk details: 8 km/ 5 miles | approx. 3.5 – 4 hours | ↗ 450 m/1480 ft | ↘ 450 m/1480 ft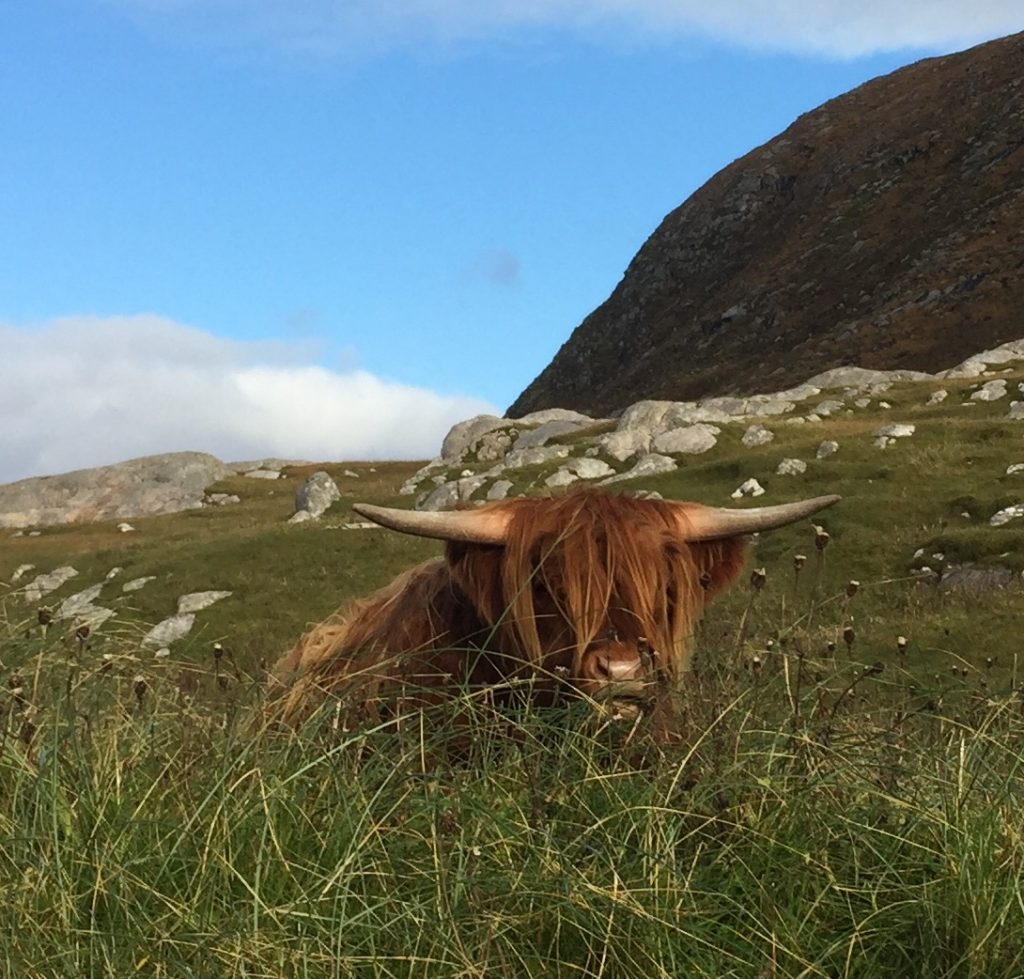 Day 6 – Ceapabhal, South Harris
The short ascent of Ceapabhal on south Harris is relatively steep but rewards us with excellent views of the beaches of Harris and the small islands in the Sound. We also include a visit to the secluded ruins of a medieval chapel.
The Machair to be found (fertile grassy plain full of wildflowers) along the low-level ground is some of the finest examples in Harris. We then visit a traditional weavers hut where you can ask questions about the methods of weaving the unique Harris Tweed.
Walk details: 6.75 km/ 4 miles | approx. 3 -4 hours | ↗ 360 m/1180 ft | ↘ 360 m/1180 ft
Day 7 – The Quiraing, Isle Of Skye
Today we depart the Outer Hebrides taking the ferry from Tarbert over to Uig on the Isle of Skye. We include a walk through the unique landscape on Skye in the otherworldly Quiraing area of the north with its incredible pinnacles and landslip features.
There is also a couple of photo stops before heading south to Portree for a bit of time to explore this popular and picturesque harbour village.
We then make our way down through Skye with outstanding views to the Cuillin mountain ranges on the route. We cross the Skye bridge and drive the short distance to the stunningly situated village of Plockton on the west coast for our last night.
Walk details: 4 km/ 2.5 miles | approx. 2 hours | ↗ 50 m/165 ft | ↘ 200 m/660 ft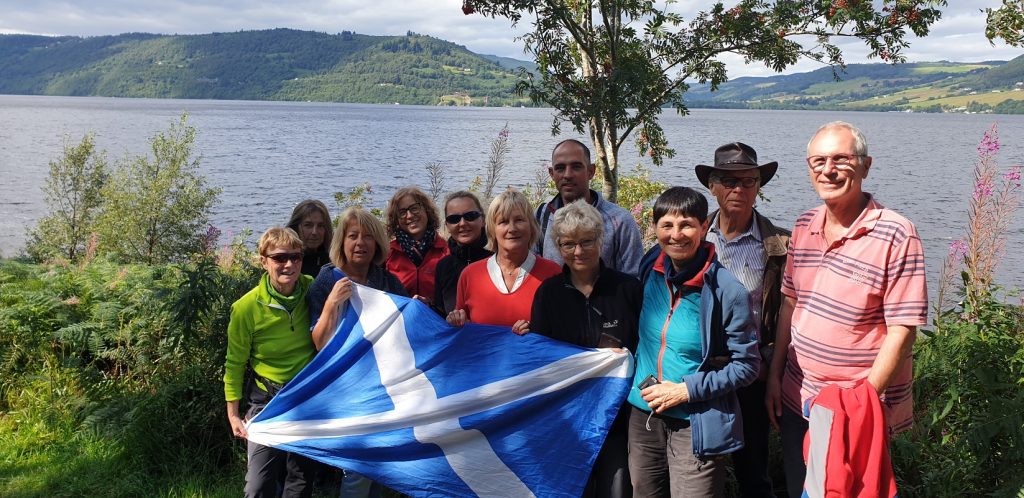 Day 8 – Transfer Day vía Loch Ness
Today is the transfer day to Inverness airport/train station or your accommodation in Inverness. If time allows, we visit some historic sites along the way and also drive past beautiful Loch Ness, the largest body of water in the UK by volume.
Then it's time to say our goodbyes after what is sure to be a memorable Lewis & Harris Walking Adventure!
Walk details: Depending on weather and timings
Gallery Lewis & Harris Walking Adventure