Trip Details & Highlights
Incredible volcanic landscapes
Ancient Caminos and dramatic barrancos
Stunning views on El Teide – Spain's highest mountain
Spectacular Parque Rural de Anaga
El Medano – laid back wind/kite surfing village
Trip Details
This 9-night Hiking Highlights of Tenerife trip offers a wonderfully unique hiking experience, taking in the best parts of the GR131 (long-distance trail) with fantastic views of El Teide, the highest mountain in Spain at 3700 metres, along the way.
Our tour also incorporates some stunning walks in the Parque Rural De Anaga in the North of the island, an area with spectacular mountains and dense laurasilva cloud forests in the north of the island, offering some of the best walking on this diverse island.
The walks are on average 15 km per day through wonderful terrain including volcanic ash, fascinating rock formations, stunning cliffside paths and barrancos, with varying ascents and descents
The accommodation we offer is of good quality in a variety of hotels and apartments. (Some modern and some authentically Canarian and 5 of the nights include hotels/apartments with a swimming pool).
We start and finish our Hiking Highlights of Tenerife tour in the lovely coastal village of El Médano which is close to the south airport for the convenience of our clients, but also offers a low key friendly and super cool beachside village atmosphere.
El Médano has a variety of excellent restaurants and bars and offers the opportunity to partake in various water-sports including windsurfing and kite surfing, or walk up the easily reached Montana Roja which sits in a prominent position on the edge of the village, or you can just simply relax on the beaches and enjoy the views.
What`s included
9 nights accommodation
8 fully guided walks
Backup Car for the whole trip
Baggage transfer to each day finish point
Taxi/Van transfer where applicable
One or two experienced and friendly guides (qualified mountain leader)
2 dinners and 4 breakfasts
What`s not included
all meals other then specified
Travel insurance (highly recommended)
Flight to Tenerife & Return
Dates
PRICE
£1099 pp Hotel/Apartments
Single supplement £200
Discounts available when booking for 3 or more people
AT A CLANCE
Group size: 4 – 12
8 days walking
Difficulty:
Deposit: £200
Start: Tenerife South Airport
Finish: Tenerife South Airport
Earlier arrival possible
Extension possible
ACCOMMODATION & MEALS
9 nights Hotel/Appartments
4 breakfast
2 dinner
Day by Day Itinerary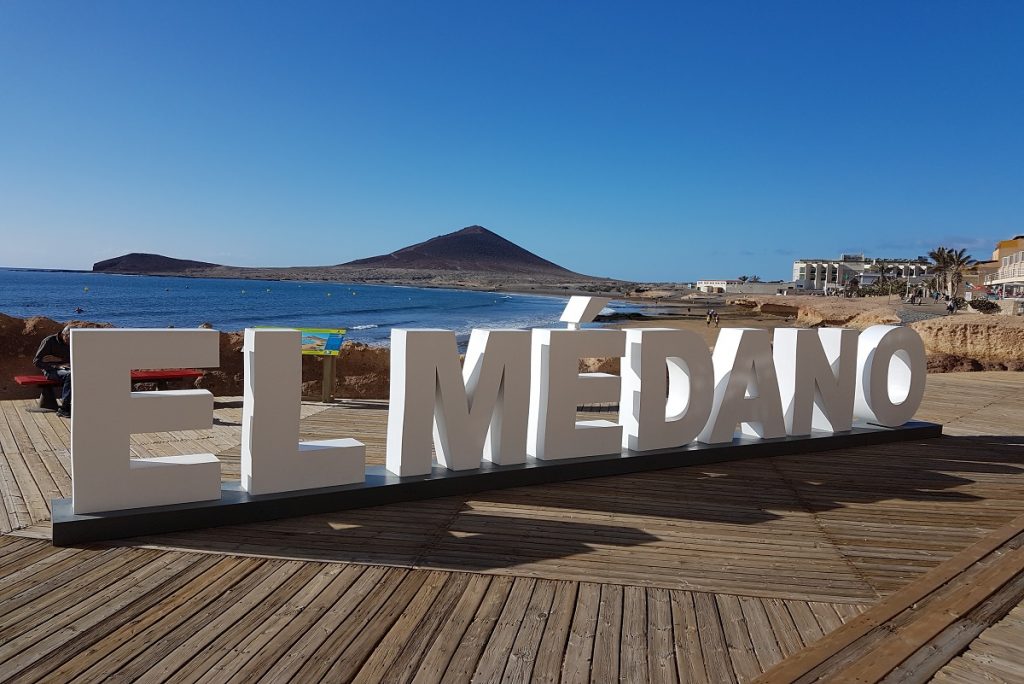 Day 1 – Arrival and transfer to El Medano
After arriving into Tenerife south airport, we transfer you to the village of El Medano.
After checking in to our hotel, depending on flight times there is time to explore this lovely low key village, maybe with a short hike up Montana Roja, or try some kitesurfing, stand up paddling, or just relax and enjoy the beachside cafes.
We will have an informal introduction to the week ahead before our group dinner in the village.
Day 2 – Arona to Vilaflor
Today we transfer to the village of Arona, where we begin our first exciting day of walking.
It's a fairly strenuous but very enjoyable climb up as we pass old cultivation terraces, cross fantastic rugged barrancos and hills.
We continue on fine paths through pine forests, with some simply amazing views along the way, before arriving at our accommodation for the night in the quaint little mountain village of Vilaflor.
Walk details: 20 km/ 12.5 miles | approx. 6-8 hours | ↗ 1400m/4595ft | ↘ 400m/1310ft
Day 3 – Vilaflor to Parador at El Teide
A lovely walk today taking in some of Tenerife's best scenery with simply spectacular El Teide views, sea views and very varied terrain underfoot.
Another reasonably strenuous route takes us through pine forest, passing dramatic lunar landscapes and surreal slopes of volcanic ash.
We finish our walk at the Parador de Las Canadas del Teide, which offers fantastic views onto El Teide and the surrounding rugged landscape. Dinner in the Parador is included on this night.
Walk details: 18 km/ 11 miles | approx. 6- 8 hours | ↗ 1060 m/3480 ft | ↘ 375 m/1230 ft
Day 4 – Parador to El Portillo
An easier section of the Hiking Highlights of Tenerife trip today with less up and down! We begin from the Parador on an undulating track which is flanked by dramatic and rugged terrain either side.
There are pinnacles and rock buttresses to feast our eyes on along the way as well as an abundance of beautiful Tajinaste, a stunning flowering plant endemic to the Canary Islands and found mainly in this area.
Once we reach El Portillo, we have a refreshment in the bar here before transfer to our accommodation in the vibrant town of La Orotava
Walk details: 17 km/ 10.5 miles | approx. 5 – 6 hours | ↗ 200 m/655 ft | ↘ 200 m/820 ft
Day 5 – El Portillo to La Caldera
Today we head back to El Portillo where we pick up our walking route to La Caldera. This lovely stretch is mostly downhill within the Parque Corona Forestal.
We descend through luxurious pine forest, crossing several barrancos and often through Laurisilva (subtropical forest) before eventually arriving into the recreation area of La Caldera.
From here we transfer you to our accommodation for the next three nights in the small coastal town of Bajamar lying at the western edge of the spectacular Anaga mountains.
Walk details: 13 km/ 8 miles | approx. 4- 5 hours | ↗ 300 m/985 ft | ↘ 1100 m/3610 ft
Day 6 – Transfer from La Oratava to Anaga Mountains
On this day, we transfer you from the accommodation in La Oratava to the Anaga Mountain area.
After arrival at our accommodation, you are free to relax on this rest day, alternately we can offer an optional short walk in the area.
Walk details: optional
Day 7 – Cruz del Carmen to Punto del Hidalgo
After a short transfer to Cruz del Carmen, we begin our walk which descends all the way down to Punto del Hidaglo.
We pass the tiny village of Chinamada where there are wonderful cave-houses as well as Guanche caves. It's a beautiful walk with some fantastic views and breathtaking landscapes.
Once back in Bajamar there is time to relax at the apartments and explore the village and perhaps take a dip in the amazing Piscina Naturales de Bajamar (safe natural pools).
Walk details: 10 km/ 6.25 miles | approx. 3 – 4 hours | ↗ 50 m/165 ft | ↘ 1000 m/3280 ft
Day 8 – Anaga circuit: La Cumbra, Afur and Taganana
This is a classic circuit within the majestic Parque de Anaga mountains, with a dramatic Barranco descent, superb rugged coastal balcony path and steep paths up through Laurisilva woods.
We pass the delightful hamlet of Taganana where we have a lunch stop on the route. The lovely whitewashed village houses are tucked within the emerald folds of the Anaga mountains.
All in all a great day of diverse scenery in the north of Tenerife.
Walk details: 14 km/ 8.5 miles | approx. 5 – 7 hours | ↗ 1000 m/3280 ft ↘ 1000 m/3280 ft
Day 9 – Pico del Ingles to Santa Cruz
The Mirador Pico Del Ingles is one of the loveliest viewpoints on Tenerife. On a clear day, you have the vast areas of the north as well as a view over to Gran Canaria.
This route takes us along an old mountain path from the Anaga main ridge down to the Capital Santa Cruz. A lovely half-day walk, still allowing enough time to enjoy a relaxing afternoon in the village of Medano at the end of this memorable week.
We will spend the last dinner to reminisce about our wonderful journey together in one of the many restaurants and tapas bars within the village.
Walk details: 7 km/ 4.5 miles | approx. 3 hours | ↗ 30 m/100 ft | ↘ 960 m/3150 ft
Day 10 – Airport transfers
It's time to say goodbye to everyone you started to know very well on the Hiking Highlights of Tenerife trip. We offer transfers to the airport throughout the day from El Medano.
Please see additional information below for extending the trip to include an exciting guided ascent of Spain's highest mountain El Teide at 3700metres!
Gallery Hiking Highlights of Tenerife
Additional Information for possible El Teide ascent
There is also an option to add on a special ascent of El Teide (3718 metres / 12198 ft) at the end of the tour!
We guide you up Spain's highest mountain on the lesser-known route from El Portillo to the mountain refuge hut at 3200 metres, where we stay overnight in shared dorms and rise very early (head torches required) to ascend the last 500 metres arriving at the summit for a wonderful sunrise before our descent walk.
A brilliant way to end a fantastic walking tour. Please note Teide ascent/descent is weather permitting and a good level of fitness is required.
Please contact us directly for additional costs for this extension and also if you have any questions about the ascent.