Trip Details & Highlights
Explore this exciting very new long-distance trail in the far north of Scotland
Eas a' Chual Aluinn with a 200 m unbroken fall height, the tallest waterfall in Scotland and the UK
Following ancient paths and valleys and bealachs (Scottish name for a pass)
Stay in authentic old inns and very rural accommodation giving you a truly Scottish hospitality experience.
Enjoy the last two evenings in the tranquil and splendid coastal village of Ullapool
Trip Details
The Eagle Way Walking Adventure is a new and unique walking trail in the north-west of the Scottish Highlands.
We are so excited about this walking trail from the Atlantic coast all the way through to some of the most spectacular mountain ranges the North-West Highlands have to offer.
Starting at Gruinard Bay we make our way past mighty An Teallach, over from Little Loch Broom to Loch Broom and further towards the Schoolhouse Bothy.
The second part of the route goes into a very different area than before with single, lonely giants standing proud on moorland before finishing at the foot of Quinag. This is part of the stunning north-west Geopark.
On the last day, you can climb the famous Stac Pollaidh with us or relax in Ullapool.
Mckenzie Mountaineering created this trail in 2020 and since 2021 we run regular trips.
What`s included
6 nights accommodation
6 days of guided walks
backup van for the whole trip
Travel info to the start and finish in Inverness
baggage transfer to each day to finish point
taxi transfer where applicable
one or two experienced and friendly guides (qualified mountain leader)
What`s not included
Lunch and dinner apart from where stated
Transport to Inverness and return transport from Inverness
Optional extra night hostel or B&B in Ullapool possible
Travel insurance (highly recommended)
Miscellaneous personal expenditure – drinks and souvenirs etc
Dates
PRICE
B&B/Hotel: £1029 pp including dinner
B&B/Hotel: £849 pp excluding dinner
Single Supplement: £150 pp
AT A GLANCE
Group size: 4 – 7
6 days walking
Difficulty:
Deposit: 20 % of the full amount
Start: Inverness Train Station 9.30 am
Finish: Inverness Train Station 12 pm
Extension in Ullapool possible
ACCOMMODATION & MEALS
6x breakfast
6x nights B&B/Hotel
all breakfasts included
Day by Day Itinerary
Day 1 – Pick up in Inverness and getting to the trailhead
In the morning we meet at the train station of Inverness, after a heartfelt welcome we have a 1h 30 minutes drive to Gruinard Bay, our first start point on the Guided Eagle Way Adventure.
On lonely hiking trails and animal paths, with excellent views of the surrounding mountains, we make our way to our first bealach (mountain pass).
Our finish point is the Dundonnell Hotel, which is sitting tranquil beside Little Loch Broom.
Walk details: 16.75 km/ 10.5 miles | approx. 5.5 hours | ↗ 570 m/1860 ft | ↘ 590 m/1920 ft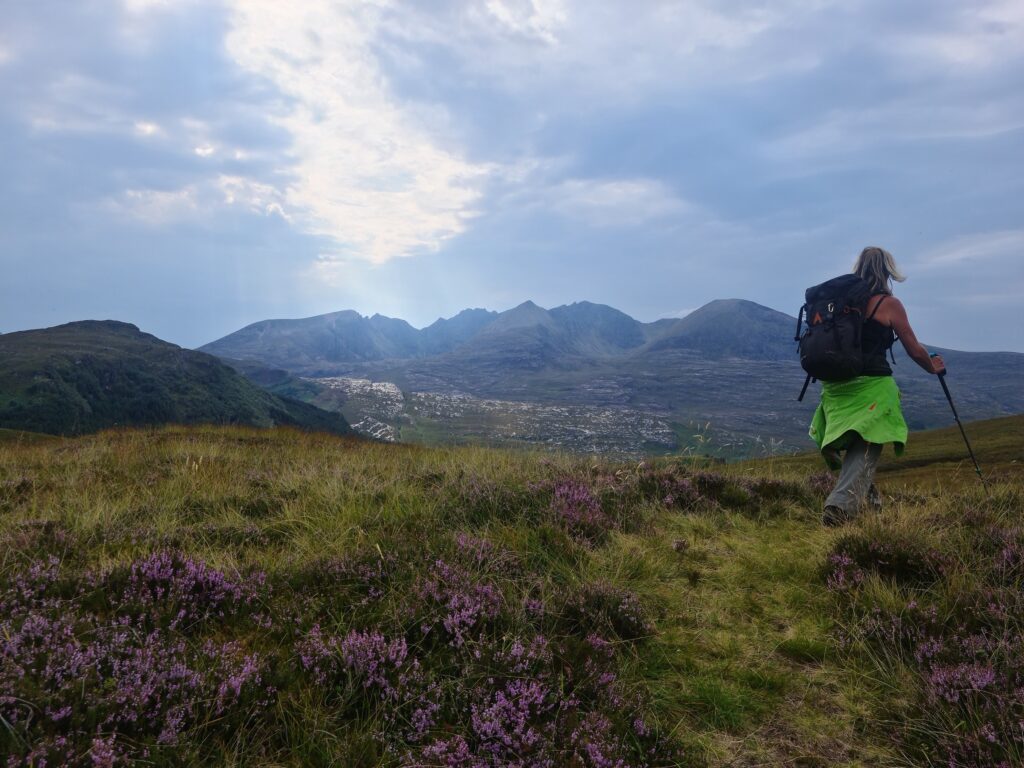 Day 2 – An Teallach and the Coffin Road
After a short climb, we already have impressive views of An Teallach, one of the most famous and strikingly dramatic mountains in Scotland.
We cross the Scottish moor on the lonely old hiking trails of the Coffin Road with views of the surrounding dramatic mountain ranges opening up before us.
Our destination is Loch Broom and the River Broom. A short transfer to the stunning village of Ullapool and we have time to experience the lovely hamlet atmosphere.
Walk details: 14.5 km/ 9 miles | approx. 4 hours | ↗ 430 m/1415 ft | ↘ 400 m/ 1340 ft
Day 3 – Leckmelm to the Schoolhouse Bothy
In the morning we journey to our starting point for the day in Leckmelm. Between Sitka Spruce forests we are walking uphill along Strath (valley) Nimhe.
Most of the time we follow an old path which takes us towards Oykel Bridge. We finish at the Schoolhouse Bothy, a lovely hut with lots of history which is often used for basic overnighting.
But not for us, a short drive takes us to our hotel which is adjacent to a pretty Loch that may be tempting for a refreshing dip before dinner.
Walk details: 19.75 km/ 12.5 miles | approx. 5.30 hours | ↗ 275 m/900 ft | ↘ 450 m/1485 ft
Day 4 – Golden Eagle's and the bone caves of Assynt
After breakfast, we shoulder the day packs and start straight from the accommodation. Immediately it goes pathless and uphill to the Lochan Sgeireach.
From here are breathtaking views over the wild and lonely giants of Assynt.
Below the Braebag summit, the path continues to the bone caves. There the bones of lynx, reindeer and polar bear were found during excavations, which were native to this area in times long past.
We continue to cross the last pass of the day before passing by the impressive entrances to the Traligall cave systems which are the largest in Scotland, before making our descent into the hamlet of Inchnadamph .
Walk details: 16 km/ 10 miles | approx. 4.5 hours | ↗ 510 m/1680 ft | ↘ 580 m/1910 ft
Day 5 – Eas a'Chual Aluinn – Scotland's highest waterfall
Today's hike takes us deep into the heart of Assynt. On rough and arduous paths we make our way up to the pass Na h-Uidhe. Perhaps we will discover an eagle gliding majestically in the rising air currents above us.
We have our well-deserved lunch break directly above the dramatic Eas a'Chual Aluinn, the highest waterfall in the UK with a drop of 200 meters. In the afternoon we descend to Loch na Gainmhich.
From here, you can take the beautifully scenic trip to Ullapool, the largest town in the region with 1,500 inhabitants.
Walk details: 14 km/ 8.75 miles | approx. 6 hours | ↗ 700 m/2300 ft | ↘ 550 m/1800 ft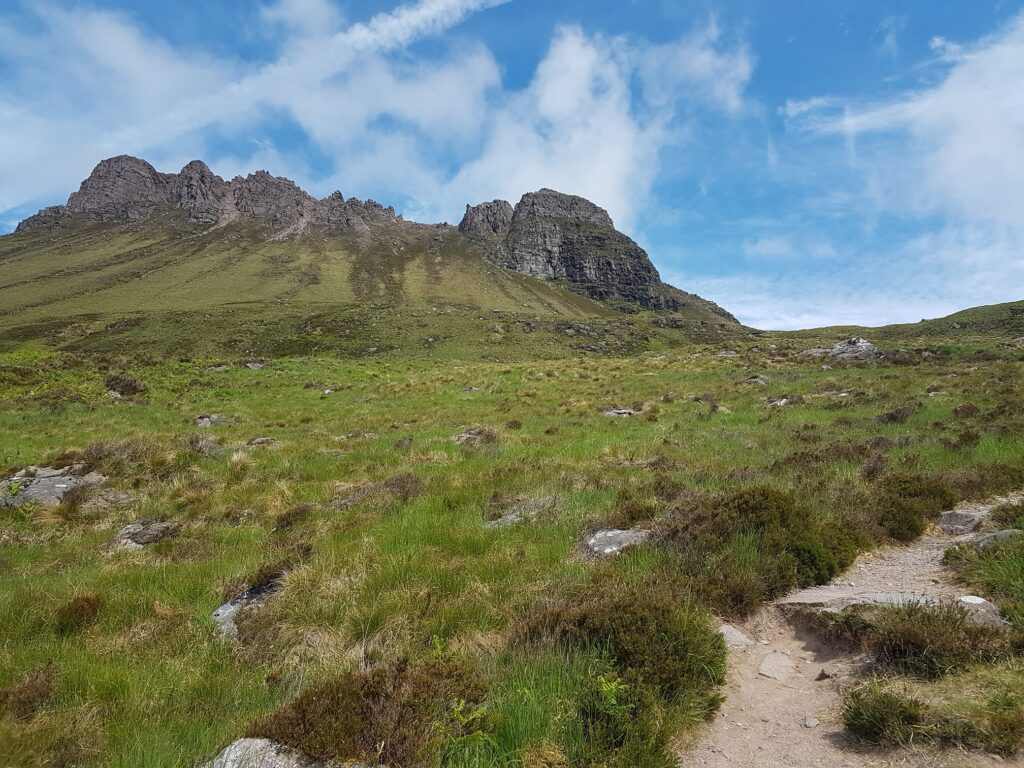 Day 6 – Optional hill walk of Stac Pollaidh, beaches & free time
The walk is optional today and you could just relax in the village of Ullapool and explore all this quaint harbour town has to offer.
Stac Pollaidh is by far the most famous and best-known mountain in Coigach and Assynt.
It is very distinctive from miles away and the rocky ridge looks almost impregnable.
Not for us today, the path is well built and big well placed boulder steps will take us up to the bealach and eastern summit. The views from here are out of this world and well worth the effort.
Walk details: 4.5 km/ 7.25 miles | approx. 2.5 hours | ↗ 510 m/155 ft | ↘ 510 m/155 ft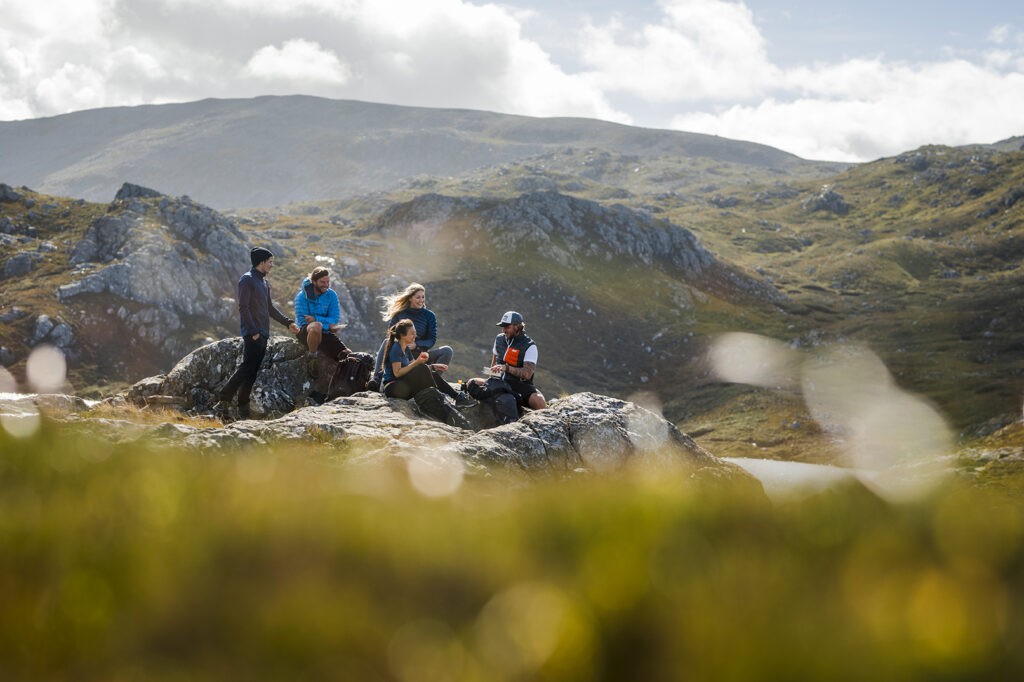 Day 7 – Say goodbye to the majestic northern Scottish Highland's
In the morning we drive past the Corrieshellach Gorge and some further places to where our journey started. If there is still time there is the possibility to explore Inverness, the largest town of the Highlands before we drop you at Inverness station.
Now it's time to say goodbye to your guides and the rest of the group, taking what should be wonderful memories home with you from this unique Eagle Way Walking Adventure.
Walk details: no walking/ very short walks for photos at viewpoints.
Gallery Eagle Way Walking Adventure