Trip Details & Highlights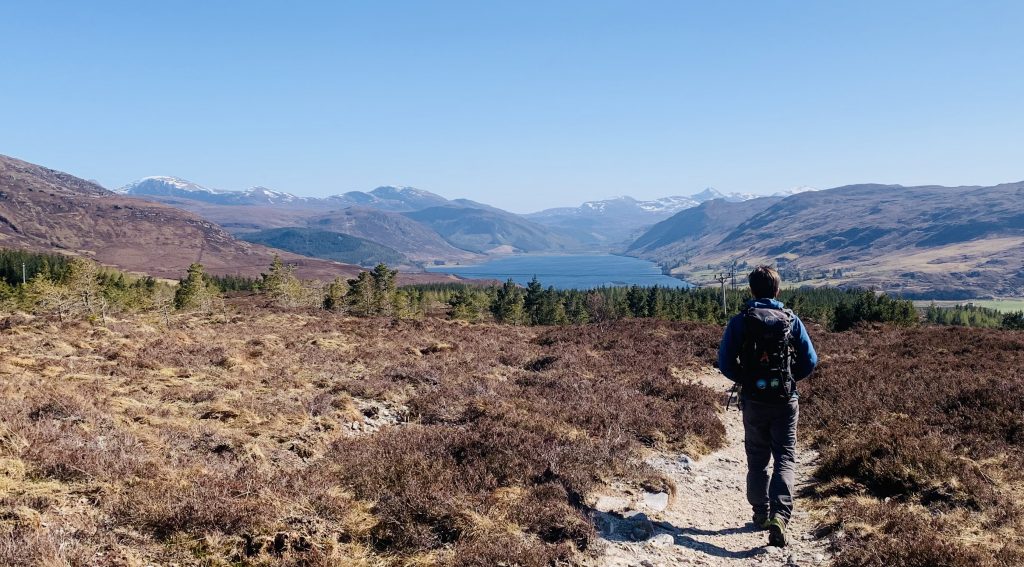 Fascinating Scoraig peninsula
Caves and unique world-renowned Geology
Waterfalls and Gorges
Ullapool village at the shores of Loch Broom
Trip Details
After a pick-up from Inverness, we head North enjoying lovely open views all along the route towards Ullapool, a delightful coastal fishing village where our accommodation is based for this trip. Ullapool is an idyllic place to stay as it sits picturesquely on the shores of Loch Broom, with plenty of fresh fish served in the friendly bars and restaurants and regular live music most days of the week. Here you will enjoy your first night on the Ullapool Walking Adventure.
We stop on route for our first walk of this 3-day adventure just before Ullapool. Our delightful riverside route incorporates some lesser-known and visited tranquil waterfalls and a beautiful gorge!
On day 2 we walk on a gorgeous coastal path to the off-grid village of Scoraig where we explore and learn about the inspiring history of this largely self-sufficient and hard-working small community before we take a short highly scenic boat ride back to Ullapool.
Our final day takes us North of Ullapool area to take a walk to some fascinating cave systems, the largest in Scotland. On route, we also have a stop at Knockan Crags Nature reserve which tells the story of the fascinating geological history of Assynt with a short interpretative trail that includes sculptures that bring the geology to life.
We then drive you back to Inverness where its time to say our goodbyes from our Ullapool Walking Adventure, after what we hope to be a great introduction to the North West highlands.
What`s included
3 days guiding with a fully qualified mountain guide
2 nights accommodation in your choice of hostel or B&B (trip also available without accommodation)
Insight into the history and flora and fauna of the area
Transfer from Inverness and back
All transfers within trip in comfortable 9 seater van
What`s not included
Transport to Inverness
Travel insurance (highly recommended)
All meals (apart from breakfast in B&B option)
Dates
09/07/2024 – 11/07/2024
or on request
PRICE
£399 pp – B&B/Hotel
Single Supplement: £50
AT A CLANCE
Group size: 3 – 7
3 days walking
Difficulty:
Deposit: 20 %
Start & Finish: Inverness
Extension possible
ACCOMMODATION & MEALS
2x nights accommodation as chosen (breakfast included in B&B/Hotel option)
Day by Day Itinerary
Day 1 – River side walk to Waterfalls and Gorge
We pick you up from Inverness and drive the gorgeous route north towards Ullapool for our walk for today.
Our route takes us alongside the river Broom to reach some lesser-known waterfalls with wonderful gorge views. There are many places that would be perfect for a dip in the natural pools on the river.
We then drive the short distance to beautifully situated Ullapool where we have our accommodation for the next two nights.
Walk details: 10 km/ 6 miles | approx. 3 hours | ↗ 200 m/660 ft | ↘ 200 m/660 ft
Day 2 – Scoraig Peninsula
Today we head South from Ullapool to begin our walk on a lovely coastal path which takes us to Scoraig, an off-grid community home to around 70 people who are largely self-efficient and hugely enterprising, with some residents being pioneers of wind power!
We visit the small lighthouse museum and talk about the history of this inspiring community before taking a short boat ride from the pier back to Ullapool with time to explore the village or take a walk up onto Ullapool hill.
Walk details: 10 km/ 6 miles | approx. 3 – 3.5 hours | ↗ 200 m/656 ft | ↘ 200 m/656 ft
Day 3 – Traligill Caves and Knockan Crag
Our final day of this 3-Day Ullapool Walking Adventure takes us to Traligill caves where we do a lovely walk to the entrances of the largest cave system in Scotland.
The views of the surrounding mountains in the area are excellent. On route to this walk, we also have a stop at Knockan Crags Nature reserve with a short walk to explore the sculpture trail and talk about the truly unique geology of this area of Scotland.
Then it's time to drive back to Inverness and say our farewells!
Walk details: 7 – 10 km/ 5 miles | approx. 3 – 4 hours | ↗ 260 m/850 ft | ↘ 260 m/850 ft
Gallery Ullapool Walking Adventure