Trip Details & Highlights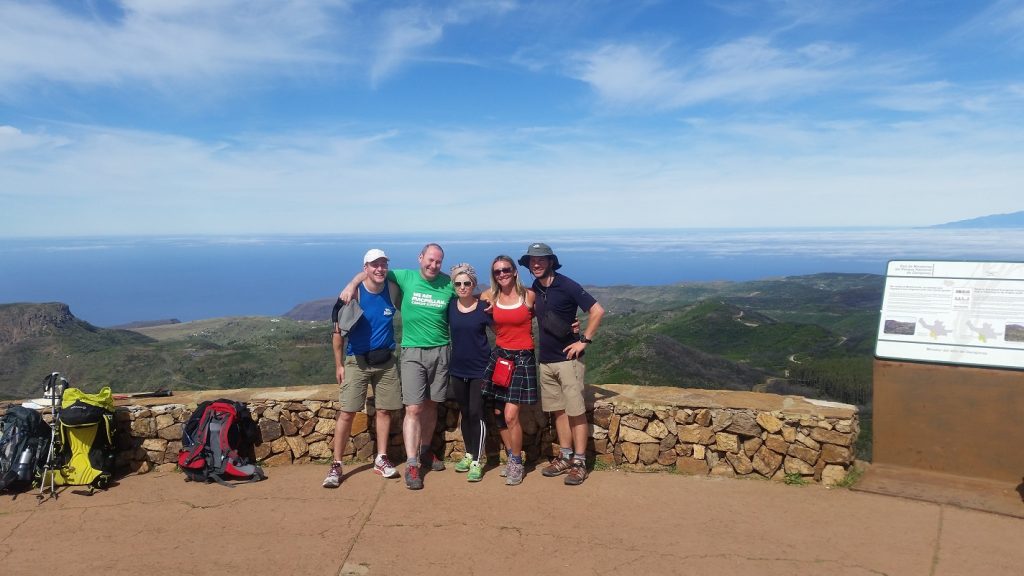 Stunning barrancos and gorges
National Park of Garajonay
Beautiful mountain villages
Dramatic everchanging landscape
Botanical paradise and laurel forests
Trip Details
La Gomera is the second smallest Canary island and remains a largely undiscovered destination. It's a stunning island with at least 50 dramatic deep-cut barrancos that slice through the landscape from 1500 metres altitude down to the sea.
The island is a walkers paradise offering lush vegetation, impressive landscapes, fantastic path networks and beautiful mountain villages with outstanding views. It is home to Garajonay National Park, declared a World Heritage site by Unesco in 1986.
Our Hiking Highlights of La Gomera takes you on a spectacular journey through the island.
We use a mix of small hotels and apartments located in lovely villages along the way and have dinner in local restaurants so you are immersed in the culture and traditions of the friendly Gomeran people.
What`s included
7 nights accommodation
2 group dinners
5 breakfasts
Baggage transfer
Taxi/Van transfer where applicable
6 guided walks with one experienced and friendly guide (qualified mountain leader)
What`s not included
All meals other than specified
Travel insurance (highly recommended)
Flight to Tenerife & Return
Ferry from Los Cristianos to La Gomera
Dates
18/11/2023 – 25/11/2023
13/02/2024 – 20/02/2024
PRICE
Price: £1069
Single supplement: £210
AT A GLANCE
Group size: 4 – 10
6 days walking
Difficulty:
Deposit: 20 % of full amount
Start & Finish: Harbour San Sebastian de La Gomera
Extension possible
ACCOMMODATION & MEALS
7 nights Hotel/Apartments
2 group dinners
7 breakfasts
Day by Day Itinerary
Day 1 – Welcome to La Gomera
Meet and greet at the harbour in San Sebastián, La Gomera. Once checked into your accommodation you will have time to explore this vibrant capital of La Gomera.
In the evening we have dinner together and your guide will give an introduction to the week ahead.
Day 2 – San Sebastián to Playa de la Guancha
Our introductory walk on La Gomera begins with a short walking tour of San Sebastián followed by a delightful coastal walk to the solitary bay, Playa de la Guancha.
We pass the Barranco de la Guancha and reach the crest of the mountain range. Soon we descend to the stream bed of another barranco and finally descend to the playa.
Here it is possible to have a swim when the sea is calm. We then retrace our steps back to San Sebastián where you will have the rest of the afternoon to explore the town at your leisure or perhaps take the opportunity to relax on the pleasant town beach.
Walk details: 9 km/ 5.6 miles | approx. 3 hours | ↗ 450 m/ 1475 ft | ↘ 450 m/ 1475 ft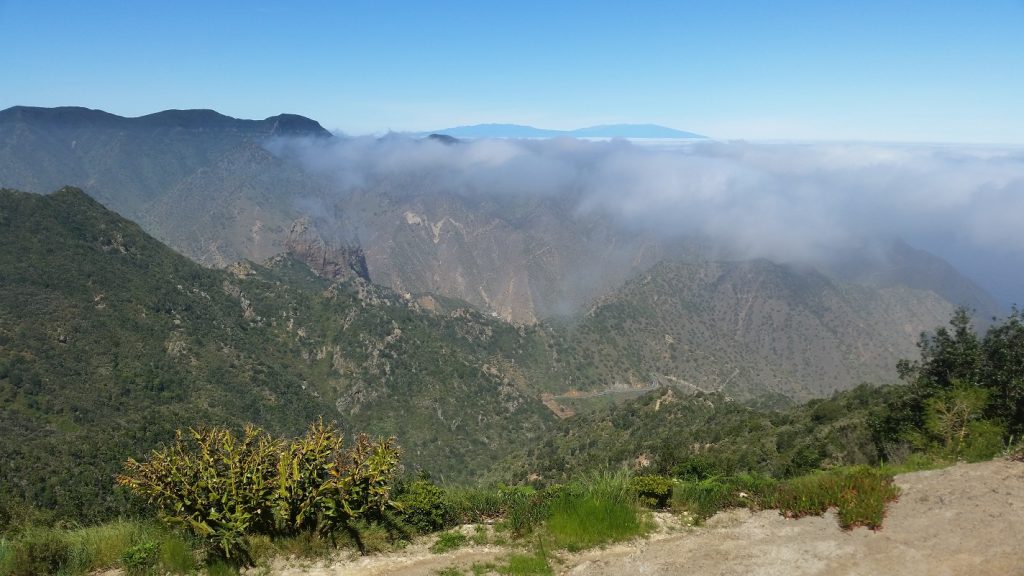 Day 3 – Chipude to Garajonay Summit circuit
This lovely circular walk begins in the small village of Chipude and follows a panoramic mountain trail to the delightful village of Igualero, La Gomera's highest village.
On this route, we pass the impressive tabletop hill of La Fortaleza, an iconic monument of La Gomera. 
The continued ascent from Igualero brings us eventually to the crest of Garajonay, the highest point on La Gomera at 1487 metres.
Weather permitting, we have a super 360-degree panoramic view from this summit.
We then begin our gradual descent on cobbled paths and caminos with great views until we reach our accommodation in Chipude.
Chipude is considered the oldest settlement on La Gomera and, until 200 years ago, was the most populated village on the island.
Walk details: 12.3 km/ 7.6 miles | approx. 4.5 hours | ↗ 550 m/1800 ft | ↘550 m/1800 ft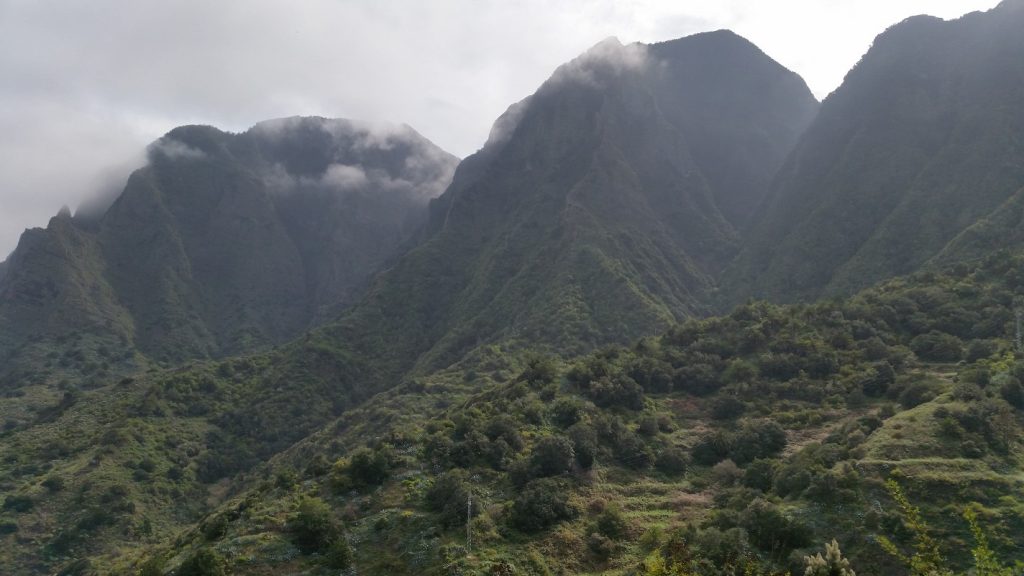 Day 4 – Chipude to Vallehermosa
On this day we walk a section of the GR131 long-distance trail to Vallehermosa, where we have two nights in this delightful village in a quaint hotel.
Our route takes us through the small pleasant villages of El Cercado and Las Hayas and sections of the beautiful Laurisilva forests of La Gomera.
It's a long, gradual descent, steep in places, but we take it at a leisurely pace enjoying the wonderful views along the way before arriving in Vallehermoso
Vallehermoso village is a delight and we spend two nights here in our comfortable accommodation.
Walk details: 15 km/ 9.5 miles | approx. 6 hours | ↗ 300 m/985 ft | ↘ 1100 m/3600 ft
Day 5 -Vallerhemosa Cumbre and beach circuit or rest day.
This day can either be a day to relax in the village and rest the weary legs, or we offer a beautiful circular walk from Vallehermoso for those with the energy.
It takes us along the stunning Cumbre de Chijere with its view to the Roque de Los Organos and stretching out to sea. The area is known for its abundance of Juniper trees.
The descent to Playa de Vallehermoso is stunning, with sweeping views of the steep coastline and the valley.
Once at Playa de Vallehermoso, there is an opportunity to dip in the seawater swimming pool, which hugs the coastline.
We then follow the road for a short while before picking up another path, which meanders across terraces and eventually brings us back into Vallerhermosa town.
Walk details: 14 km/ 8.7 miles | approx. 5 hours | ↗ 740 m/2427 ft | ↘ 740 m/2427 ft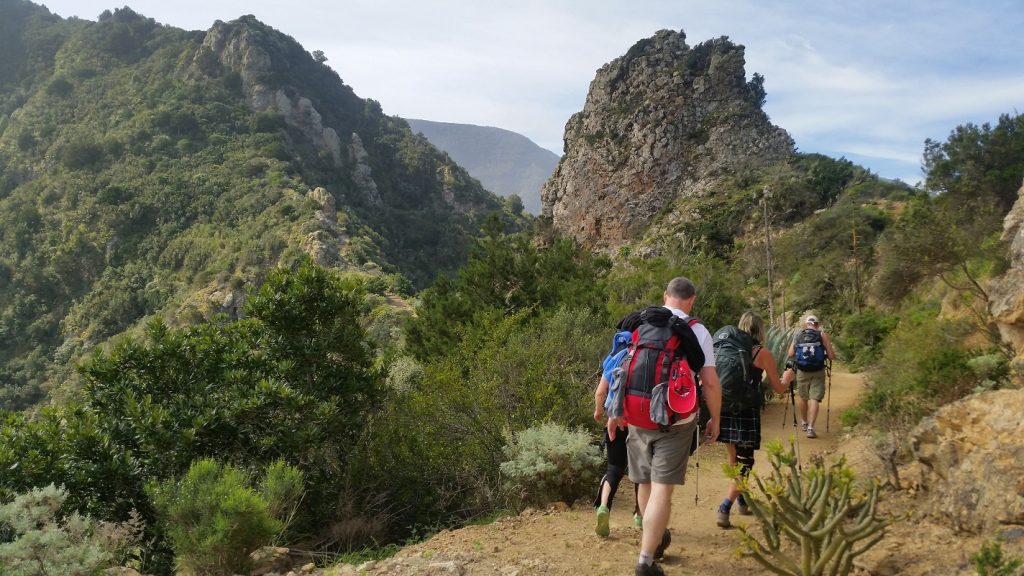 Day 6 – Vallehermoso to Agulo
Today's walk offers incomparable impressions of the north of the island. We begin with a reasonably long steep climb, which zigzags out of the village on an excellent rocky path to pass the huge Monumento Natural Roque Cano and further on reaching a road.
The following section is gentler and undulating through forest and farmland until we eventually reach the National Park visitor centre at Juego de Bolas.
We have a short stop here with exhibits and information about La Gomera's natural wonders.
We then continue reaching a track cut through red earth and some gentle log steps before descending on a long stone-paved and cobbled path that zigzags down. Once reaching the road, we cross over and descend some more before arriving in the lovely village of Agulo.
Walk details: 15 km/ 9.3 miles | approx. 4.5 hours | ↗ 780 m/2560 ft | ↘ 780 m/2560 ft
Day 7 – El Cedro Circuit
Our final day of walking involves a short transfer before starting our walk to El Cedro from El Contadero and finishing in Hermigua.
The descent from the foot of Garajonay to Hermigua is the cavalcade tour of the island. At lunchtime, we will stop at the lovely La Vista Restaurant.
Further descending the trail, we get joined by the Cedro Stream, flowing with water year-round and the highest waterfall of the island.
Optional: We can walk to Agulo after a rest in Hermigua.
We include the last group dinner in one of the many bars in the town, where we can reminisce over our wonderful week of adventures.
Walk details: 9 km/ 5.6 miles | approx. 3.5 hours | ↗ 100 m/ 330 ft | ↘ 1100 m/ 3610 ft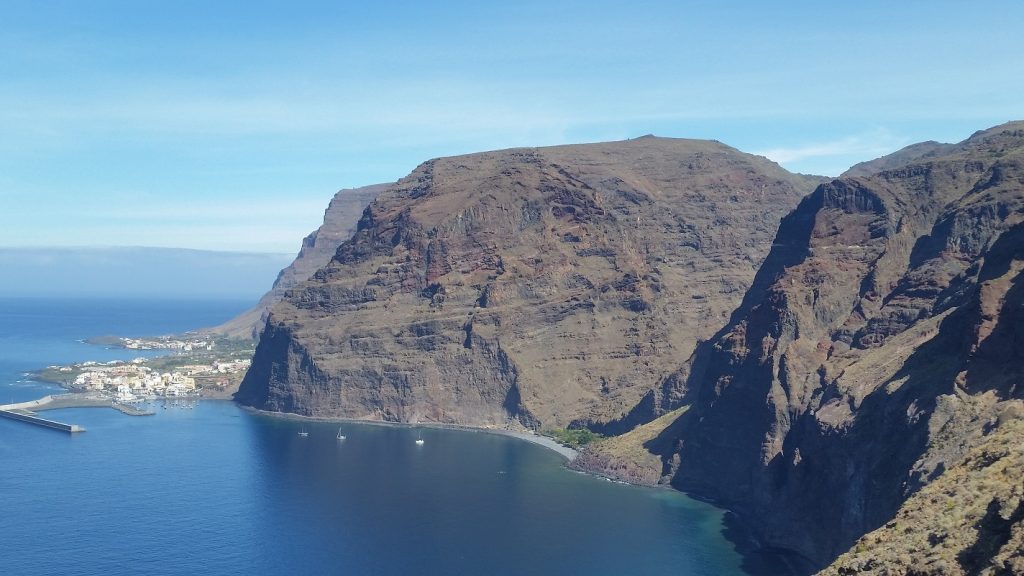 Day 8 – Depart La Gomera or extension
Today, we say goodbye to you in San Sebastian.
We leave Agulo and transfer you to San Sebastián, where you can take your ferry back to Tenerife or book optional nights in La Gomera.
We recommend either spending one or two more days in La Gomera to either relax or explore further or perhaps you prefer to head back to Tenerife and relax there before your flight home. We can advise and help with booking any extra accommodation if required.
Gallery Hiking Highlights of La Gomera