Trip Details & Highlights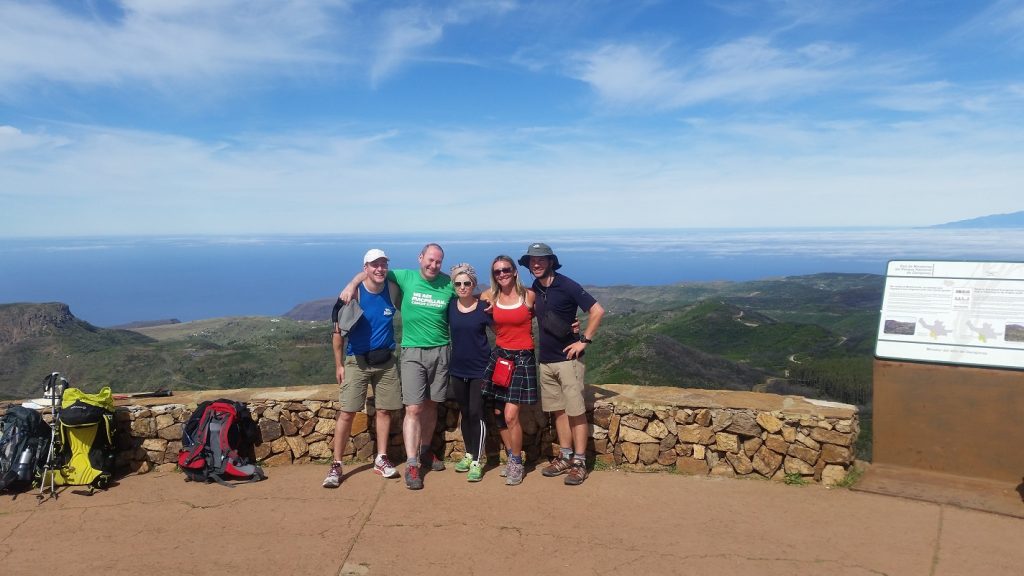 Stunning barrancos and gorges
National Park of Garajonay
Beautiful mountain villages
Dramatic everchanging landscape
Botanical paradise and laurel forests
Trip Details
La Gomera is the second smallest Canary island and remains a largely undiscovered destination. It's a stunning island with at least 50 dramatic deep cut barrancos that slice through the landscape from 1500 metres altitude down to the sea.
The island is indeed a walkers paradise offering lush vegetation, impressive landscapes, fantastic path networks and beautiful mountain villages with outstanding views. It is home to Garajonay National Park which was declared a World Heritage site by Unesco in 1986.
Our guided walking tour takes you on a spectacular journey through the island, walking from village to village with baggage transferred throughout.
We use a mix of small hotels and apartments located in lovely villages along the way and have dinner in local restaurants so you are immersed in the culture and traditions of the friendly Gomeran people.
What`s included
7 nights accommodation
2 group dinners
7 breakfasts
Baggage transfer daily
Taxi/Van transfer where applicable
Pick up from Tenerife south airport
Ferry from Tenerife to La Gomera and return
6 guided walks with one or two experienced and friendly guides (qualified mountain leader)
What`s not included
All meals other then specified
Travel insurance (highly recommended)
Flight to Tenerife & Return
Day by Day Itinerary
Day 1 – El Medano, Tenerife
We pick you up from the Tenerife Sur airport on this first day and transfer you to the lovely coastal village of El Medano. Once checked into your accommodation you will have time to explore this vibrant village which is well known for kite surfing.
We will have an informal introduction from your guide outlining the week ahead before a group dinner where everyone can get to know each other.
Day 2 – La Gomera, Degollada de Paraza to Chipude
We transfer you to the ferry port in Los Cristianos, where we take the pleasant 1-hour ferry to San Sebastian in La Gomera and have a short transfer to the start of our walk.
The first trail day of our walking tour passes close to the wonderful crags of 'Los Roques' on rugged paths and continues past miradors with stunning views.
We then pass the striking mountain of La Fortaleza before meandering on undulating tracks to reach the mountain village of Chipude and our hotel for tonight.
Chipude is considered to be the oldest settlement on La Gomera and until 200 years ago was the most populated village on the island.
Walk details: 16 km/ 10 miles | approx. 6 hours | ↗ 700 m/ 2300 ft | ↘ 850 m/ 2790 ft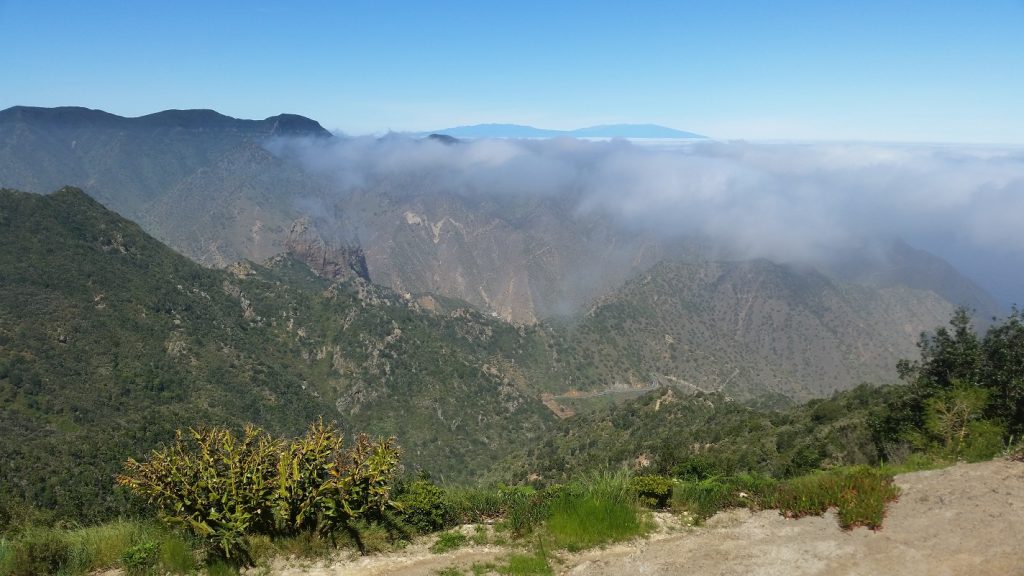 Day 3 – Chipude to Valle Gran Rey
Today we descend to the coastline at Valle gran Rey via El Cercado on a route that reveals all the charms of the 'Valley of the Great King' with breathtaking scenery.
We pass terraces of crops, date palms, fruit trees and flowers whilst we descend on steep but pleasant cobbled trails down to the coast of Valle Gran Rey and our hotel/apartment for the night.
There will be plenty of time to explore the village or enjoy the black sand beaches on this shorter day.
Walk details: 8 km/ 5 miles | approx. 3 – 4 hours | ↗ 80 m/262 ft | ↘1080 m/3543 ft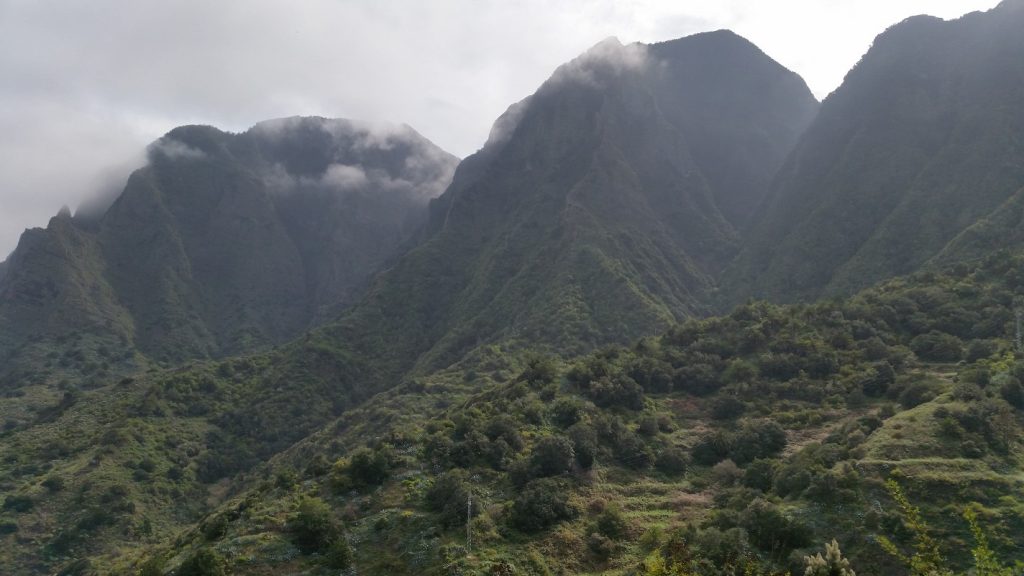 Day 4 – Valle Gran Rey to Vallehermoso
The traverse from Valle Gran Rey into the beautifully serene Vallehermoso Valley is a grand route from south to north which belongs to one of the island's most varied displays.
With fantastic views of the valleys and the wondrous laurel forest of Bosque Del Cedro finally descending into the gentle landscape of Vallerhemoso. The route involves a lot of ascent and descent but is so worth the effort.
Vallehermoso village is a delight and we spend two nights here in our comfortable accommodation.
Walk details: 17 km/ 10miles | approx. 7 hours | ↗ 1000 m/3280 ft | ↘ 950 m/3116 ft
Day 5 -Vallerhemosa Cumbre and beach circuit or rest day.
This day can either be a day to relax in the village and rest the weary legs or for those who have the energy, we offer a beautiful circular walk from Vallehermoso.
It takes us along the stunning Cumbre de Chijere with its view to the Roque de Los Organos and stretching out to sea. The area is known or its abundance of Juniper trees.
We then head to the Playa de Vallehermoso where there is a seawater swimming pool and enjoy a refreshing dip before continuing our circular route back to Vallehermoso.
Walk details: 13 km/ 8 miles | approx. 4 – 5 hours | ↗ 740 m/2427 ft | ↘ 740 m/2427 ft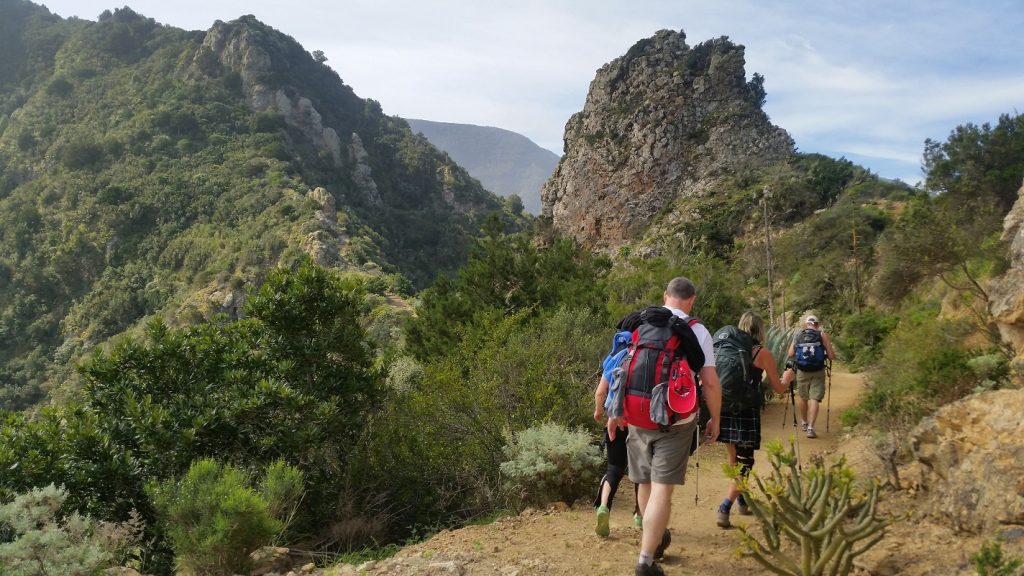 Day 6 – Vallehermoso to Hermigua
An excellent walk above the north coast connects the two villages of Vallehermoso and Hermigua. It is admittedly quite an arduous day but it gives an incomparable impression of the landscape, passing close to the monumental Roque Cano.
Also on our route today, we visit the Garanjay National Park Visitor Centre with time to explore and learn more about this unique island and its history.
We then descend to Agulo and past the Playa de Hermigua before making our way up into the quaint village and our accommodation for the night
Walk details: 19 km/ 12 miles | approx. 7 hours | ↗ 1000 m/3280 ft | ↘ 1100 m/3608 ft
Day 7 -Hermigua to San Sebastian
Our final day of walking involves some easy road walking at the start and finish with an undulating climb from the Hermigua valley through a forested cumbre.
The route passes prickly pear and aloe before descending into San Sebastian, where we celebrate with a refreshment in a local bar before heading to our accommodation for the night.
San Sebastian is the island's capital, with an interesting church and the Torre Del Conde, a mediaeval fortification set in a lush park.
We include the last group dinner in one of the many tapas bars in the town where we can reminisce over our wonderful week of adventures.
Walk details: 19 km/ 12 miles | approx. 6 – 7 hours | ↗ 750 m/2460 ft | ↘ 850 m/2788 ft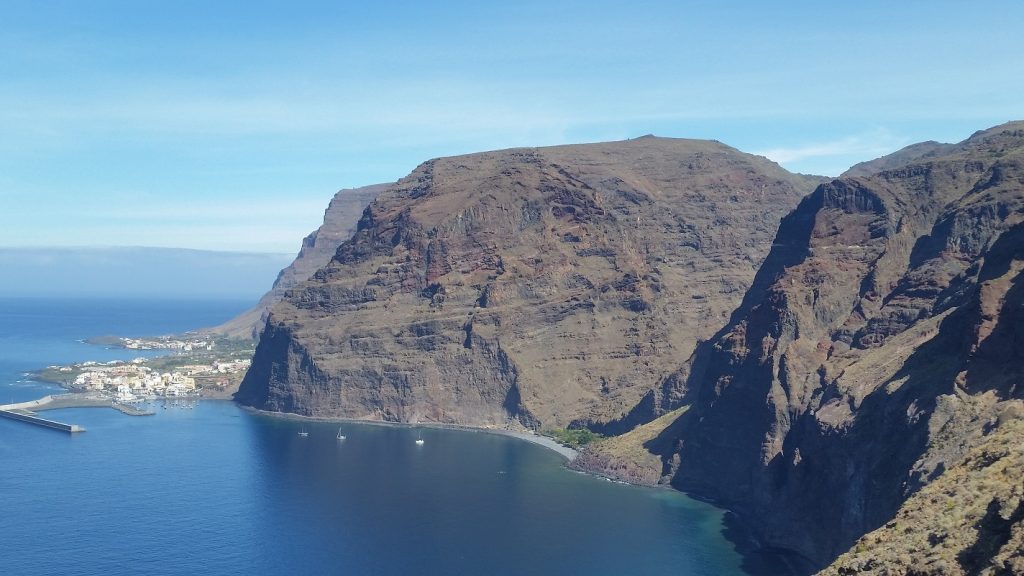 Day 8 – Depart La Gomera or extension
Today we say goodbye to you in San Sebastian. Ferry back to Tenerife is included in the tour but we let you make your own way back as we recommend either spending one or two more days in La Gomera to either relax or explore further, or perhaps you prefer to head back to Tenerife and relax there before your flight home. We can advise and help with booking any extra accommodation if required.
Gallery Hiking Highlights of La Gomera