Trip Details & Highlights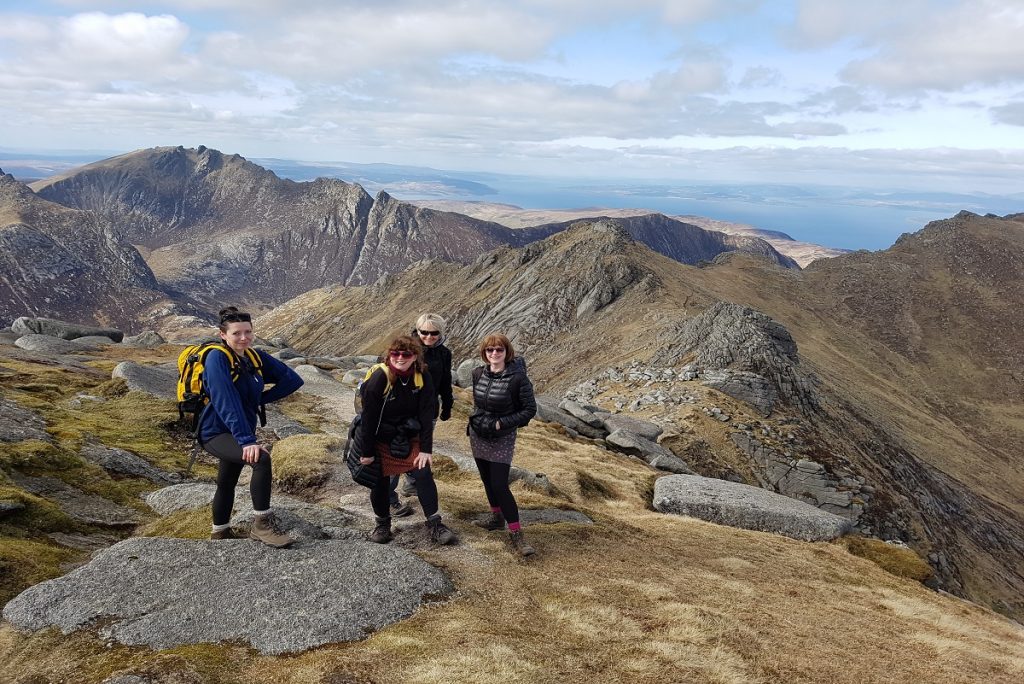 Magnificent Goatfell mountain – the highest point on Arran
Walking the complete 105 km Arran Coastal Way
Mysterious Machrie Moor ancient stone circle
Wildlife spotting along the beautiful coastline
Fantastic local hospitality
Arran distillery tour and tasting
Trip Details
The Arran Coastal Way Walking Adventure officially recognised in 2017 as one of 'Scotland's Great Trails' is a 65 mile/105km rewarding and sometimes challenging circular long-distance trek around the beautiful island of Arran. This welcoming island is often described as 'Scotland in miniature' due to the variety and diversity of the island, with plenty of mountainous terrain as well as beautiful coastline, quaint villages and interesting topography.
The route is packed with the opportunity to spot plenty of wildlife. Our guided walking trip not only takes us along the whole of the Arran Coastal Way, but we occasionally take diversions to visit some fascinating points of interest such as waterfalls and standing stones. This walking trip also includes an ascent of the majestic mountain of Goatfell, the highest point on the island with an optional wonderful ridge walk from the summit.
We also have a tour and tasting at the highly renowned Arran whisky distillery. We spend evenings in B&Bs in lovely villages with local bars and restaurants offering plenty of opportunities for sampling good local food and to enjoy the friendly hospitality on this diverse island tour.
What`s included
8 nights accommodation
7 days guided walks
Backup Van for the whole trip
Ferry from Ardrossan to Brodick and return
Tasting Tour at Arran Malt Whisky Distillery
Visit of Arran Brewery
Visit of Arran Aromatics Shop & factory
Baggage transfer to each day finish point
Taxi transfer where applicable
One or two experienced and friendly guides (qualified mountain leader) depending on the size of the group
Details on how to get to Ardrossan Harbour and back from Glasgow/Edinburgh
What`s not included
Meals other than specified
Travel insurance (recommended)
Train/Transfer from Edinburgh/Glasgow to Ardrossan harbour and return
Day by Day Itinerary
Day 1 – Ferry from Ardrossan to Arran and optional short walk
After a short and pleasant one-hour ferry crossing we arrive into Brodick and there is an option to do one of the many lovely shorter walks in the area around Brodick before checking into our B&B. We will get together before dinner for an informal introduction and a chat about the exciting week ahead.
Walk details: depending on weather and timings (max 7 km)
Day 2 – Brodick to Corrie via Goatfell
Today we begin our trek on the Arran Coastal Way Walking Adventure, with a leisurely stroll along Fishermans walk to the Isle of Arran Brewery. Here we allow you the option of some time to look in the shop and sample a beer. (Or buy one for later!).
From here we begin our ascent of Goatfell, the highest mountain on the island standing at 874 metres high. Our ascent offers fabulous views back over Arran, with Holy island being a prominent point!
After a rocky section, we reach the summit where the views are simply stunning over the ridges of the other Arran peaks. Our descent takes us down to the small village of Corrie.
Walk details: 12.5 km/ 7 miles | approx. 5 – 6 hours | ↗ 850 m/2790 ft | ↘ 850 m/2790 ft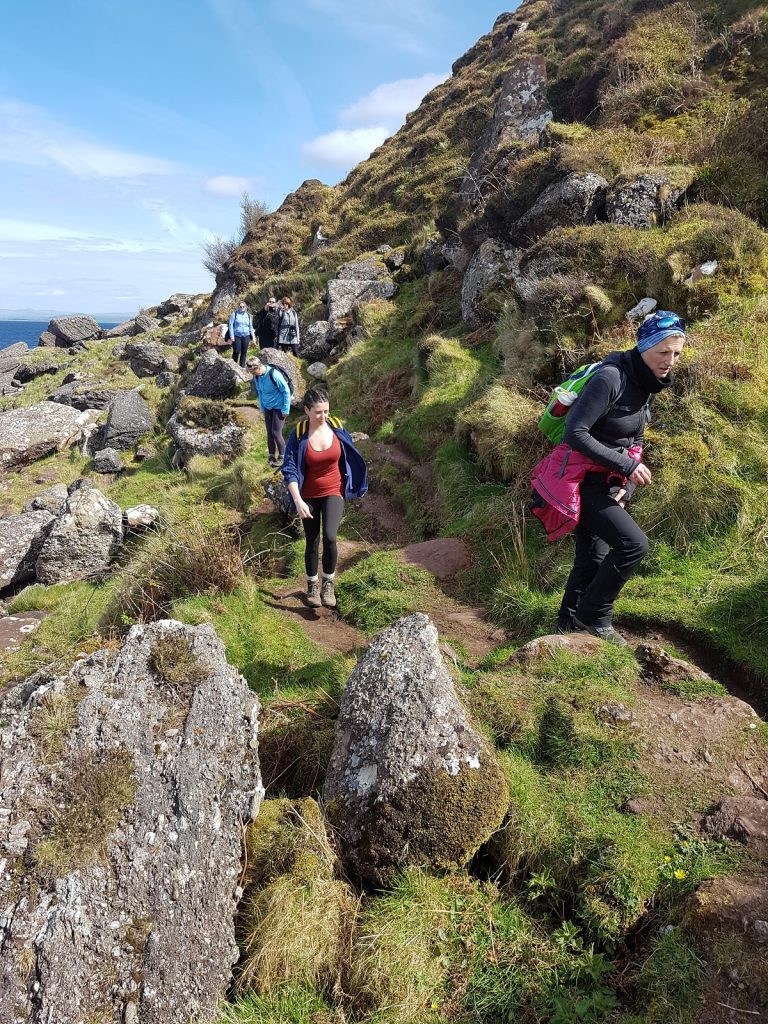 Day 3 – Corrie to Lochranza
We start the day in the wee village of Corrie and walk along the quiet coastal road where there is plenty of wildlife to look out for until we reach the village of Sannox.
From here the route is arguably classed as one of the best sections of the Coastal way, starting with a lovely section of a coastal footpath and forest track.
The path is pretty good but does have some muddy and very rocky sections, and involves some very enjoyable sections of minor boulder scrambling along the coast before we eventually arrive into Lochranza.
Walk details: 19 km/ 11 miles | approx. 5.5 – 6 hours | ↗ 120 m/400 ft |
Day 4 -Lochranza to Imachar
After a morning distillery tour and tasting, we are raring to go further on the Arran Coastal Way Walking Adventure! With a hilltop route between Lochranza and Catacol this section then encompasses a stretch of walking beside or on the quiet main road.
Still, with plenty of interest along the way, the route passes through the delightful village of Pirnmill before heading onto the shore for the final few kilometres before reaching Imachar.
We also take a detour along the route, up to the beautiful Coire Fhionn Lochan with its white gravel beach, a great place for a paddle. This lies between Catacol and Pirnmill and adds about 5 km in total to our 14 km section of the coastal way walk, but is well worth the effort!
Walk details: 19.5 km/ 12 miles | approx. 6 – 7 hours | ↗ 500 m/1640 ft | ↘ 500 m/2790 ft
Day 5 – Imachar to Blackwaterfoot
The first section is along the pleasant coastal roadside and we then take a side trip to the impressive Machrie Moor stone circles, associated with religious activities dating as far back as 4500 years ago!
The coastal way then follows an excellent path to the shore and passes the King's cave (renowned to have been a location where Robert the Bruce had his famous encounter with a spider).
There are also several interesting carvings to be seen within the caves. From here the route continues along a coastal footpath around Drumadoon point and into Blackwaterfoot.
Walk details: 16 km/ 10 miles | approx. 5 – 6 hours | ↗ 165 m/540 ft |
Day 6 – Blackwaterfoot to Lagg
This section follows the coast to 3 caves, the middle one being Preaching Cave (this smoke-blackened cave was once used as a church).
The route then continues over varied terrain to Sliddery. Wildflowers are often in abundance in late spring through to summer/early autumn. Although sections are on the quiet road, the views are simply stunning!
The route then climbs inland and just avoids the only nudist beach on Arran before following the road downhill to the small village of Lagg.
Walk details: 12 km/ 7.5 miles | approx. 4-5 hours | ↗ 210 m/690 ft |
Day 7 – Lagg to Whiting Bay
This day offers exceptional coastal walking including exciting scrambling over boulders which should not be underestimated!
The path then takes us to the lovely small village of Kildonan where seals and otters are often spotted on the dykes extending out to sea.
There are two options from here which both offer interest, either continuing along the coast for those who are happy to do even more boulder scrambling, whilst the alternative is to head inland on forestry tracks to Giants grave and Glenashdale falls before arriving at the lovely coastal village of Whiting Bay.
Walk details: 16 – 19 km/ 10 – 12 miles | approx. 6 – 8 hours | ↗ 85 – 390 m/280 – 1280 ft |
Day 8 – Whiting Bay to Brodick
This newly rerouted section takes us through Whiting Bay village and round Kingscross point and past a Viking grave and iron age hill fort and follows much of the shore with beach walking and newly laid boardwalks in the woods taking in many natural features.
We then continue from Lamlash around the coast taking in amazing views of Holy isle and then continuing on a footpath before crossing fields and heading down into Brodick.
For our last evening on the island, Brodick offers a variety of services with great bars offering good food and live folk music.. a fine end to a memorable and challenging week!
Walk details: 18 km/ 11 miles | approx. 6 – 7 hours | ↗ 230 m/760 ft |
Day 9 – Homeward Bound
There is an option to visit the famous Arran Aromatics shop and outlet and Arran cheese shop before we take the ferry from Brodick back to Ardrossan on mainland Scotland, with onward train travel to Edinburgh/Glasgow, included.
Walk details: no walking
Arran Coastal Way Walking Adventure Gallery