Trip Details & Highlights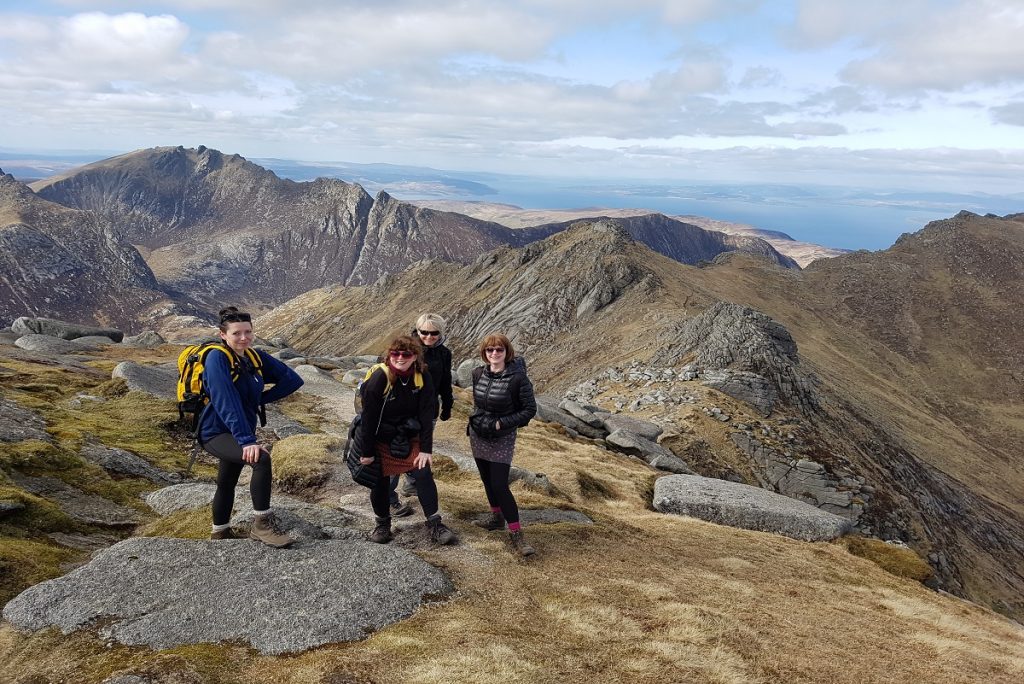 Travel in an extra small group (max. 8 guests)
The wonders of Arran – 'Scotland in Minature'
Islay – 'Queen of the Hebrides' and its renowned distilleries
Hiking amongst the dramatic Paps of Jura and Jura distillery
Mystical Mull and Ben More – most westerly Munro mountain in Scotland
Beautiful community-owned Isle of Ulva
Trip Details
This wonderfully diverse 5 island hopping whisky and walking tour incorporating the island of Arran and the islands of the Inner Hebrides, offers a taste of Scotland in every way you can imagine! Walking over dramatic mountains and through lush valleys, relaxing ferry journeys with superb views, and some of the best Malt whisky Distillery tours Scotland has to offer.
We begin the adventure with 2 nights on Arran where we ascend majestic Goatfell mountain and visit the mystical Machrie Moor standing stones and enjoy a tour of Arran's highly regarded whisky distillery.
Then we are off to Islay for 3 nights – the southernmost of the Inner Hebrides, known for its numerous whisky distilleries producing the island's characteristically peaty malts. We have several tastings and at least one distillery tour during our time here as well as some beautiful walks including stunning coastlines and snippets of the island's history.
From here we take a short ferry journey over to the isle of Jura for a magnificent mountain ascent as well as a visit to Jura distillery.
Our next island is Mull where we are based for 4 nights giving us plenty of time to explore this magical isle including a mountain walk on Scotland's most westerly 'Munro' (listed mountain over 3000 feet) and a day visit to the small fascinating island of Ulva where we do a delightful circular walk on this lesser know community-owned and run island.
We also have time to visit beautiful rugged coastlines and of course, incorporate a tasting tour at Tobermory distillery.
What`s included
9 nights accommodation with breakfast
8 fully guided walks
fully qualified mountain leader throughout
2 distillery tours
5 tastings
all ferry fares to and from 5 islands
Transport throughout the tour
pickup from Edinburgh/Glasgow at start of the tour
What`s not included
lunch and dinner
Transport to and from Edinburgh/Glasgow
Travel insurance (recommended)
Dates
PRICE
B&B/Hotel: £1919 pp including dinner
B&B/Hotel: £1599 pp excluding dinner
Single Supplement: £250 pp
AT A CLANCE
Group size: 4 – 8
9 days walking
Difficulty:
Deposit: 20% of the full amount
Start: Edinburgh 9 am
Finish: Edinburgh 1 pm
Extension possible
ACCOMMODATION & MEALS
9 nights B&B/Hotel
9 breakfast
Day by Day Itinerary
Day 1 – Machrie Moor standing stones
After taking the one hour ferry from Ardrossan on the mainland over to Brodick on Arran, we have time in the afternoon to take a shorter walk to the fascinating archaeological landscape of Machrie moor with ancient standing stones, stone circles and burial cairns dating back to between 3500and 1500bc.
We then check in to our B&B for the next two nights and you will have time to explore the village before we have an informal introduction from your guide with a summary of the week ahead.
Walk details: 4.25 km/ 2.75 miles | approx. 1.5 – 2 hours | ↗ 42 m/138 ft | ↘ 42 m/138 ft
Day 2 – Goatfell Mountain and Arran Distillery
Today we ascend Goatfell, the highest point on Arran at 874 metres from sea level. We pass the Arran Brewery where there is time to sample this renowned local beer!
The ascent is via a good path initially which becomes rougher nearer the summit. the views out to Holy island and of the surrounding ridges are outstanding.
We descend to the small village of Corrie with a refreshment stop at the Corrie Hotel. We are then off to Lochranza for a whisky distillery tour and tasting.
Walk details: 12.5 km/ 7.75 miles | approx. 6 – 8 hours | ↗ 853 m/2798 ft | ↘ 853 m/2798 ft
Day 3 – Ferry to Islay and coastal walk
Today we are off to the Isle of Islay for our 3-night stay. After taking the ferry over from Arran we will head out on a wonderful coastal walk taking in the beauty of one of Islay's many unspoilt beaches. There is always a chance to spot birds and marine life on the coastlines.
Our accommodation for our 3 nights is in the vibrant village of Bowmore, home to Islay's first distillery established in 1779. This diverse island has several wonderful distilleries and we visit at least four of the best in our time here.
Walk details: max. 10 km/ 6 miles | max 3 hours | ↗ 50 m/164 ft | ↘ 50 m/164 ft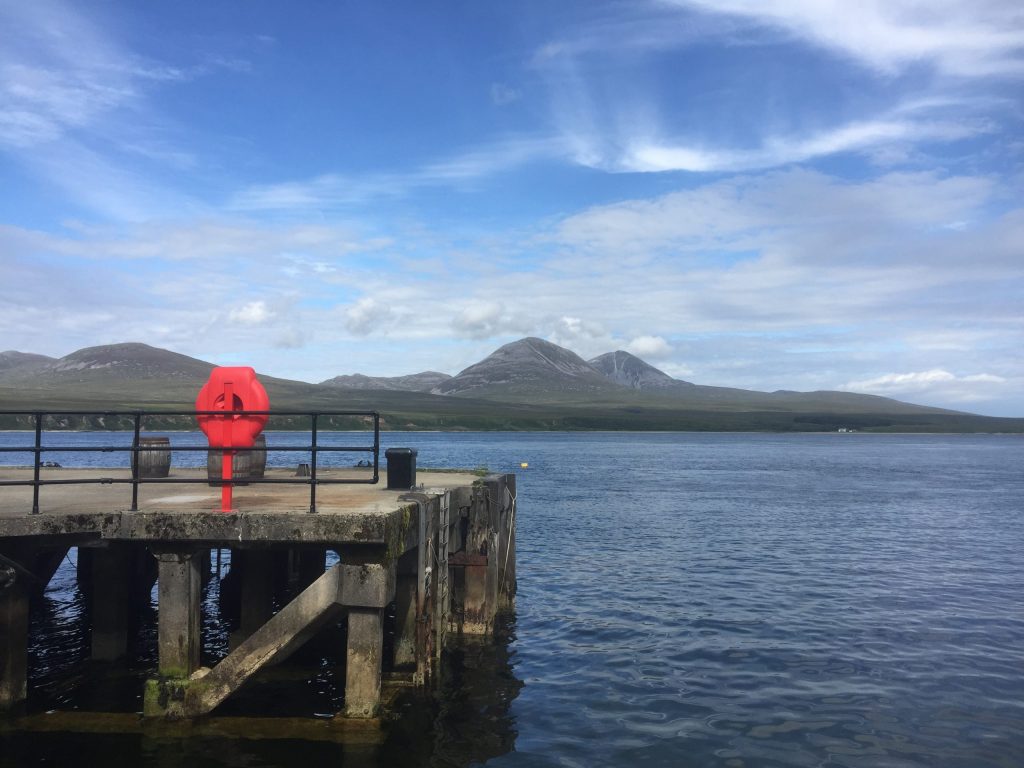 Day 4 – Magnificent Paps of Jura
After a very short ferry trip over to the Isle of Jura, we head to the start of our walk-up onto the highest of the Paps of Jura – Beinn an Oir, an impressive mountain giving fantastic views of the other hills and beyond.
It's a long rather boggy walk in but improves once on higher ground and then a steep ascent onto this excellent summit. We return the same way and finish with a whisky tasting at world-renowned Jura distillery before our short ferry trio back to Islay
Walk details: 13.25 km/ 8.25 miles | approx. 6 hours | ↗ 758 m/2486 ft | ↘ 758 m/2486 ft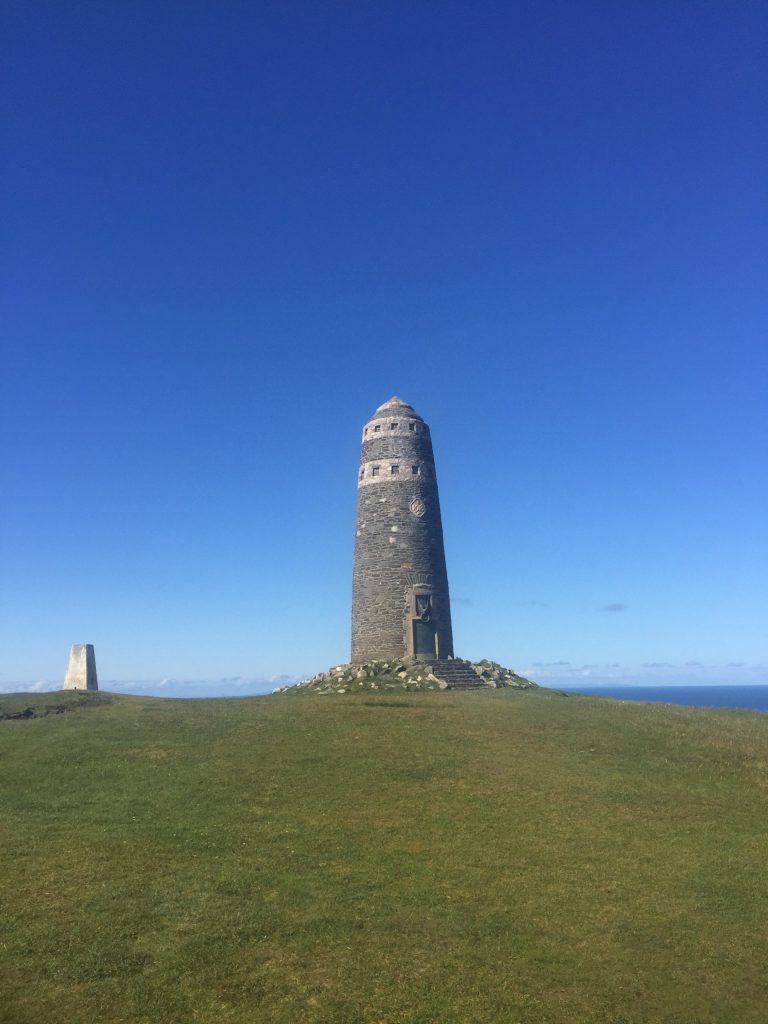 Day 5 – Mull of Oa, singing sands and the 'distillery trail'
We have three shorter walks today, The Mull of Oa is one of the most dramatic locations on Islay on the far point of the Oa peninsula and is home to an important monument which your guide will be happy to talk about.
We then take a walk to the singing sands in the south of Islay and visit an unusual lighthouse, followed by a walk that links three distilleries, Laphroaig, Lagavulin and Ardbeg, where we stop for a tasting in each and finish with a tour of Ardbeg. A fantastic end to this varied day!
Walk details: 14 km/ 8.7 miles | approx. 5 – 6 hours walking | ↗ 200 m/656 ft | ↘ 200 m/656 ft
Day 6 – Ferry to Mull and explore Tobermory
Next on our island list is the gorgeous hospitable Isle of Mull, which we reach by ferry and a wonderful scenic drive via the village of Tarbet and the famous coastal town of Oban.
We spend four nights on Mull giving us plenty of time to discover all its hidden delights. On arrival, we may have time for a short afternoon walk before checking into our delightful B&B based in lovely Tobermory with its colourful harbour houses.
Walk details: approx 5 km/ 3 miles | approx 2 – 3 hours | ↗ 100 m/328 ft | ↘ 100 m/328 ft
Day 7 – Ben More mountain
Ben More is not only the most westerly 'Munro' in all of Scotland (mountain over 300 feet) but is also the highest peak in the Inner Hebrides other than the mountains of Skye.
We take the straight route up the mountain which can be boggy in the lower section followed by a rocky upper section. On a clear day, the views from the summit are fantastic. We return to Tobermory where we have a tasting tour at the Tobermory distillery on our Island Hopping Walking Tour.
Walk details: 9.25 km/5.75 miles | approx. 6 hours | ↗ 945 m/3100 ft | ↘ 945 m/3100 ft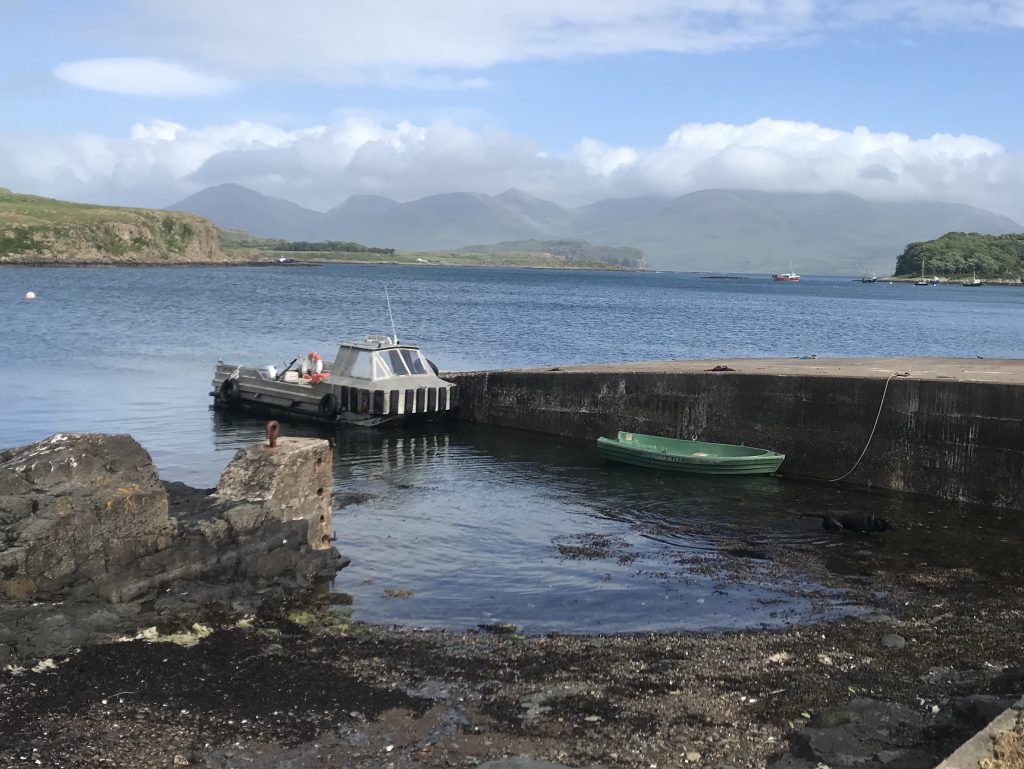 Day 8 – Isle of Ulva circuit
The island of Ulva has recently become community-owned and is really such a delightful place to explore.
We take the tiny ferry over to the excellent boathouse cafe where we start our excellent varied circuit around the southern section of the island, which includes a visit to the remains of the explorer, David Livingstone's grandparents croft, an interesting cave and some beautiful rugged coastline.
We return to the cafe for a refreshment before our short ferry back to Mull and a scenic drive with a beautiful beach stop on our return to Tobermory.
Walk details: 7.5 km/4.66 miles | approx. 3 – 4 hours | ↗ 185 m/606 ft | ↘ 185 m/606 ft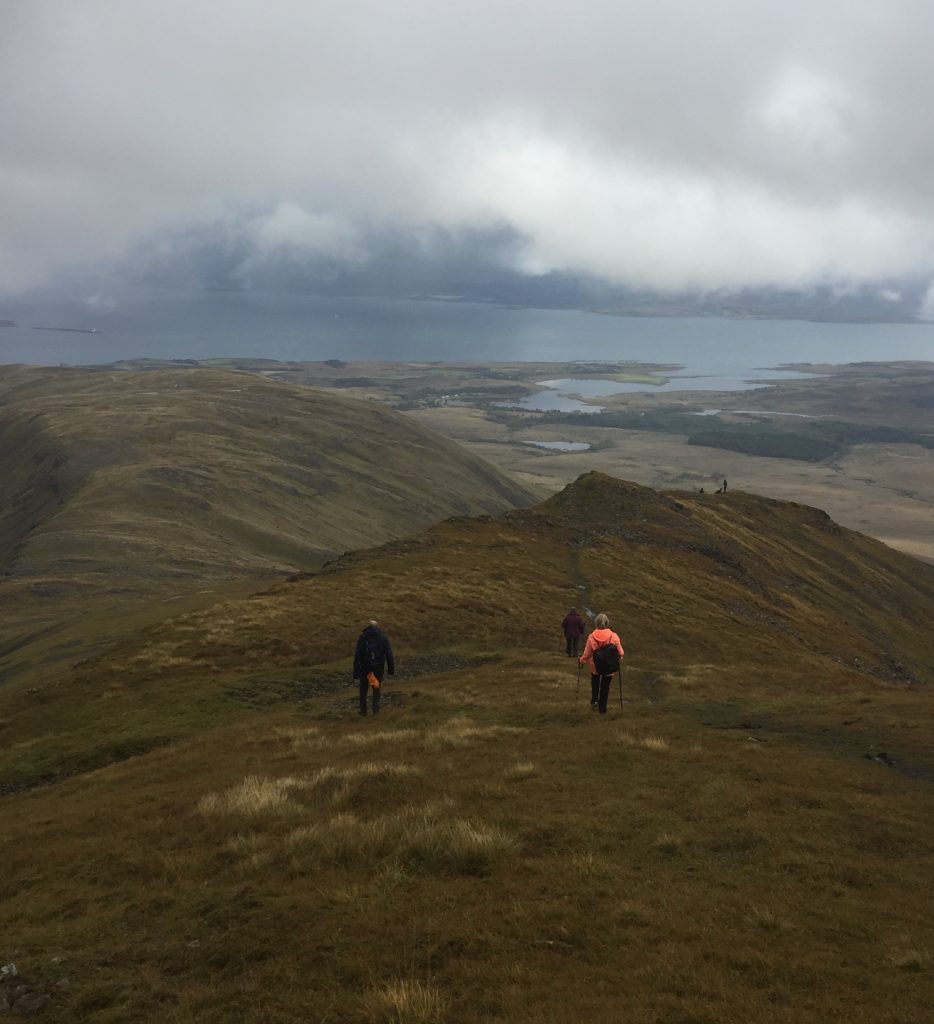 Day 9 – Dun da Ghaoithe mountain ridge
Dun Da Ghaoithe is the second-highest mountain on Mull and offers some beautiful views, not only on the summit but on the walk up and back down.
It has a wonderful long ridge which we do a section of to marvel at the views before retracing our footsteps to the start.
There is time to take the short drive from here to the wonderfully positioned Duart Castle for a short walk in the grounds and a tour of the inside of the castle.
Walk details: 15 km/9.25 miles | approx. 5 – 6 hours | ↗ 843 m/2765 ft | ↘ 843 m/2765 ft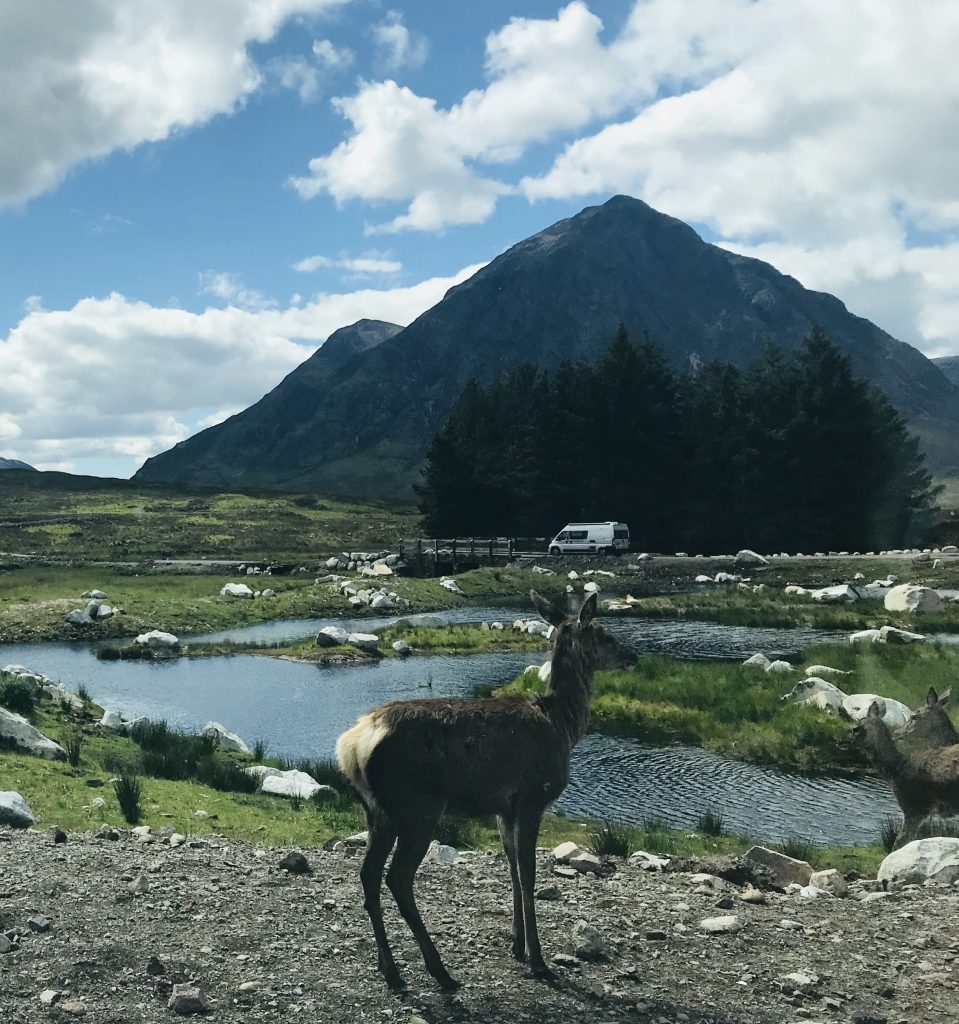 Day 10 – Homeward Bound
The following day we take the ferry over to the Ardnamurchan peninsula which allows us a very scenic route back to Edinburgh via stunning Glencoe, allowing you to sit back, relax and reminisce about what promises to have been a true Scottish adventure on the Island Hopping Walking Tour.
Walk details: Transfer day with short leg stretchers and photo stops
Gallery Island Hopping Walking Tour