Trip Details & Highlights
Scotland's most famous long-distance trail
Glengoyne Distillery tasting and tour
Stunning walking along the shores of Loch Lomond
Dramatic landscapes of Glencoe
Flora and Fauna and History of the trail
Optional Ben Nevis ascent – the highest mountain in the UK
Trip Details
Our West Highland Way Walking Adventure takes us on an incredible 96-mile trail from Milngavie in Glasgow to finish in Fort William in the Highlands. The challenge, camaraderie and stunning scenery along the way will leave you with unforgettable memories.
We take 7 days to complete the trail – averaging around 12 to 15 miles per day. Your luggage is transferred each day for you meaning you only carry a small day pack with you whilst walking.
There is an option to climb Ben Nevis (the highest mountain in the British isles) at the end of this trek at a small supplement.
Our accommodation is based in simple but comfortable hiker huts, bunkhouses and hostels or B&B/Hotels for anyone looking for extra comfort. We still enjoy our dinners all together within the villages.
We offer the West Highland Way Walking Adventure fully guided so our clients not only experience the wonderful scenery and diversity of this fantastic walk but also come away with an insight into the local flora and fauna, mountains and lochs and history and legends along the trail.
We also offer a fun barbecue on one eve and plan the trip so that we can enjoy pub nights with local music and good food.
What`s included
7 nights accommodation
7 days of guided walks
backup van for the whole trip
Distillery tour and tasting – Glengoyne Distillery
Travel info to the start (Milngavie) and back from Fort William
baggage transfer to each day to finish point
taxi transfer where applicable
one or two experienced and friendly guides (qualified mountain leader)
fun barbecue evening
1 breakfast
What`s not included
Breakfast, lunch and dinner apart from where stated
Transport to the start of the walk at Milngavie and return transport from Fort William to your start point (unless prior arrangement has been made)
Optional extra night hostel or B&B in Fort William to climb Ben Nevis
Travel insurance (highly recommended)
Miscellaneous personal expenditure – drinks and souvenirs etc
Dates
PRICE
B&B/Hotel: £1199 pp including dinner
B&B/Hotel: £999 pp excluding dinner
Single Supplement B&B/Hotel: £250 per person
Hiker Huts & Hostels: £699 per person
AT A CLANCE
Group size: 6 – 12
7 days walking
Difficulty:
Deposit: 20 % of the full amount
Start: Milngavie 9 am
Finish: Fort William 9 am
Well behaved dogs welcome
ACCOMMODATION & MEALS
4 nights Hostel/Bunkhouse
3 nights Huts
1 breakfast (hostel in Drymen)
1 Outdoor BBQ (dietry requests catered for)
all breakfasts included in B&B/Hotel option
Day by Day Itinerary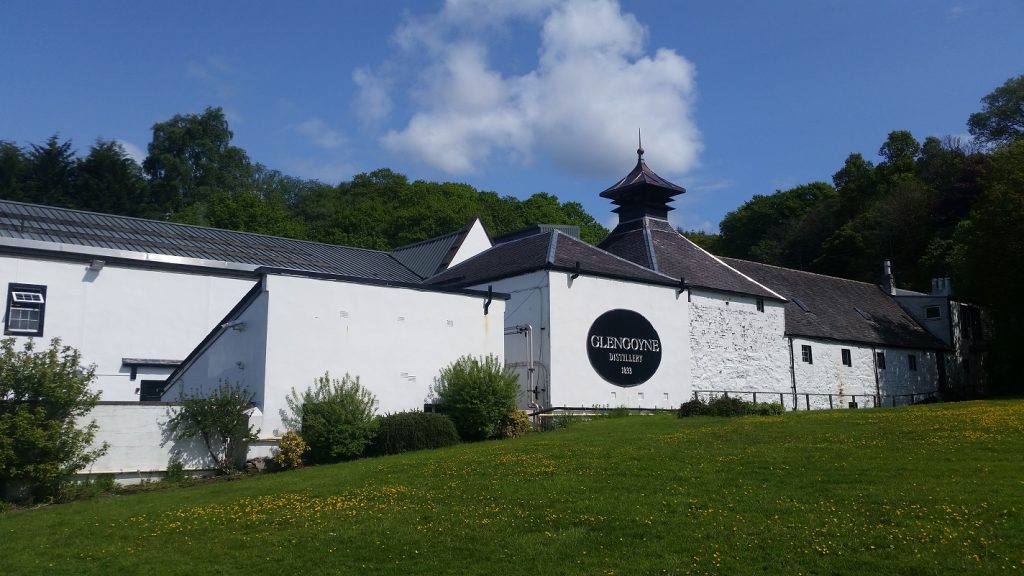 Day 1 – The trek begins – Milngavie to Drymen
We meet at the start point in Milngavie for group photos and introductions. The first day of our trek takes us through the lovely parks of Milngavie into open countryside offering beautiful views of the Campsie Fells on gentle paths.
Just after halfway, we have a fantastic tasting and tour at Glengoyne Distillery. We continue on pleasant paths and quiet roads to finish the day in the lovely village of Drymen.
Walk details: 19 km/ 12 miles | approx. 5 – 6 hours | ↗ 210 m/690 ft |
Day 2 – Drymen to Rowardennan via Loch Lomond
Today the way takes us through magical Loch Lomond National Park. From Drymen, we pass through Garadhban forest, up onto Conic Hill with a traverse of the top. The views over the loch on a clear day are simply stunning!
We continue along the beautiful shores of Loch Lomond, with sections along its delightful beaches and through pleasant forests with a few more short ups and downs with more fine views before reaching the idyllic area of Rowardennan.
Walk details: 24 km/ 15 miles | approx. 6 hours | ↗ 430 m/1410ft |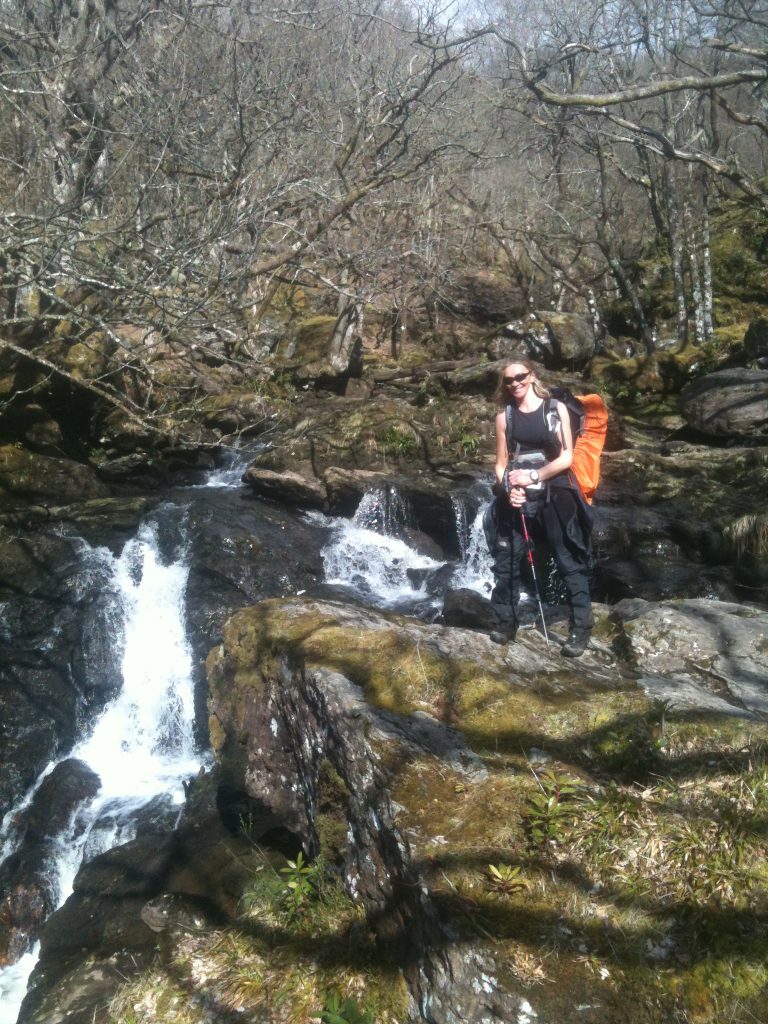 Day 3 – Rowardennan to Inverarnan via the Falls of Inversnaid
The walk today continues along the banks of Loch Lomond with sections being wonderfully close to the loch and interesting and varied terrain underfoot – a challenging, diverse and exciting section of the way.
We pass Inversnaid with its wonderful waterfall, particularly spectacular when in spate, and later in the day, after another fairly challenging section beside the loch, the terrain eases as we approach Inverarnan.
We enjoy a hearty pub dinner in the historic and unique Drovers Inn across the River Falloch.
Walk details: 22.5 km/ 14 miles | approx. 6 hours | ↗ 475 m/1560 ft |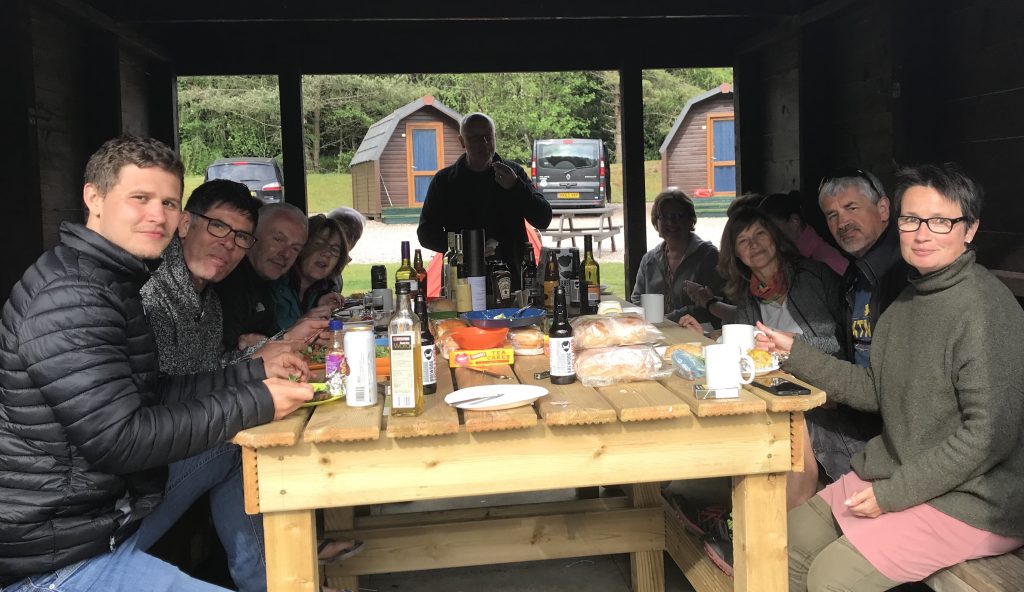 Day 4 – Inverarnan to Tyndrum passing the halfway point of the West Highland Way!
This section takes us up through beautiful Glen Falloch with a steady incline initially, followed by some ups and downs.
We pass the halfway point of the west highland way and continue our trail through attractive forests and farmland with fabulous mountain views before arriving into the small but vibrant village of Tyndrum.
Here we provide a fun evening for our group, with our substantial included barbecue which we prepare at our hiker huts campsite area. All dietary requests are catered for.
Walk details: 19.5 km/ 12 miles | approx. 5 – 6 hours | ↗ 490 m/1610 ft |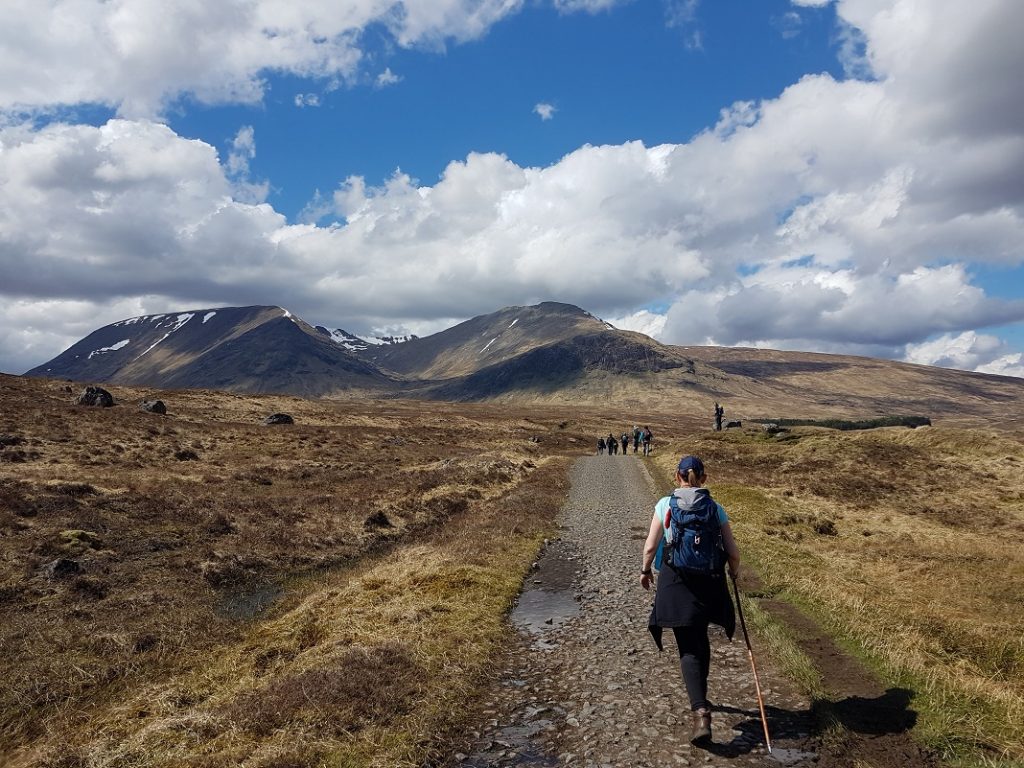 Day 5 -Tyndrum to Glencoe via Rannoch Moor
A long day but on relatively easy tracks as we leave Tyndrum eventually passing the beautiful conical peak of Beinn Dorain and continuing our walk through the emotive surroundings of Rannoch Moor – majestic mountains and open vistas on the latter part of this day gives you a feeling of entering deep into the Highlands!
We arrive into Glencoe valley with stunning views of one of Scotlands most iconic mountains the Buachaille Etive Mor and finish today's walk at the Kingshouse hotel with time for a quick refreshment.
We have a short van transfer through the gorgeous Glencoe Valley to our comfortable hostel accommodation
Walk details: 29.5 km/ 18.5 miles | approx. 7 hours | ↗ 640 m/2100 ft |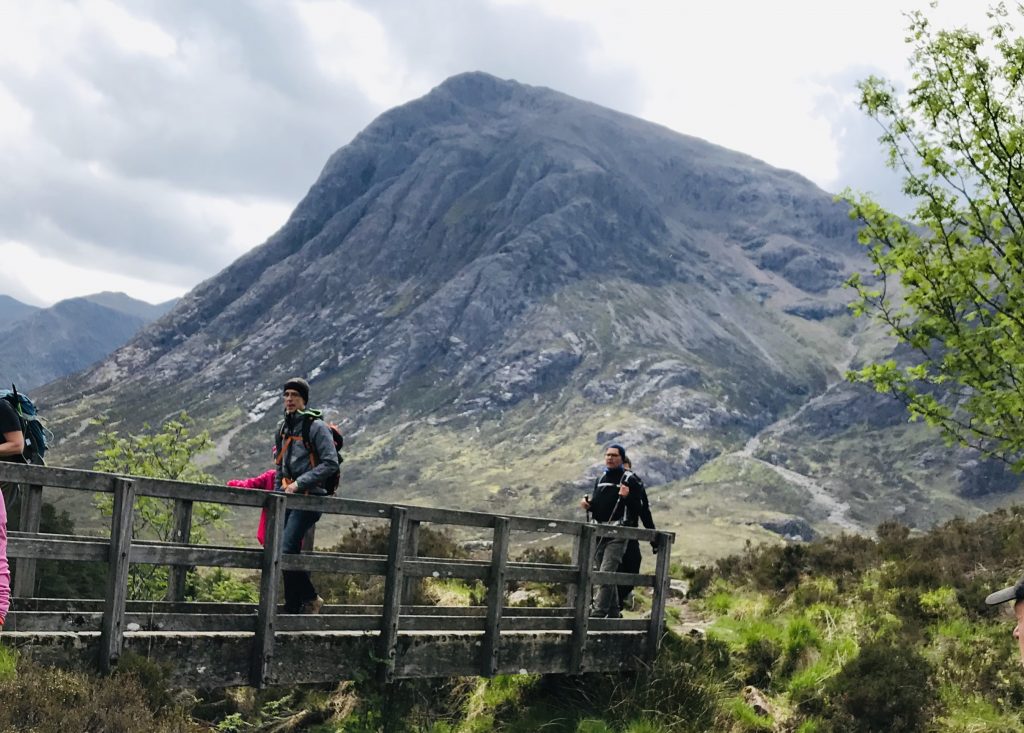 Day 6 – Glencoe to Kinlochleven via the Devils Staircase
In the morning we transfer you back to the Kingshouse Hotel for the start of this wonderful shorter day which takes us dramatically over the renowned Devils Staircase – a fair bit of ascent but a nice steady rise on a zig-zag path.
Once on the bealach (or saddle), the panoramic views back to Glencoe and over to the vast Mamore mountain range on a clear day are outstanding and if the weather allows, we catch our first glimpse of distant Ben Nevis, the highest mountain in the UK.
We descend on a stony path accompanied by meandering rivers and burns through forests and finally into the village of Kinlochleven
Walk details: 14.5 km/ 9 miles | approx. 4-5 hours | ↗ 430 m/1210 ft |
Day 7 – Kinlochleven to Fort William
The final day of the West Highland Way Walking Adventure is another long one, but after a short steep start to the day on a path up out of the village to a great viewpoint, our route then takes us through the Larig Mor pass on a relatively steady path for some time, again with fine mountain views all around us.
Once through the pass, we have a couple of ups and downs before descending on forest paths into Glen Nevis with the massive bulk of Ben Nevis coming closer into dramatic view. Finally, we make our way through the town of Fort William to the West Highland way finish point where after photos and congratulations we enjoy a celebratory drink in a nearby pub!
We then take a short transfer to our accommodation and for those who are not doing the Ben Nevis ascent the following day, enjoy our last evening all together over dinner and drinks in the Ben Nevis Inn bar-restaurant where we can relax and reminisce on our week of hiking the West Highland Way!
Walk details: 26 km/ 16 miles | approx. 6 – 7 hours | ↗ 475 m/1560 ft |
Day 8 – The highest mountain in the UK – optional ascent of Ben Nevis
Ben Nevis is the highest mountain in the UK, rising to 1344m (4409 ft)m. We are happy to guide you, weather permitting to the summit of this fantastic mountain at a small extra cost.
There are many routes of ascent on the mountain, however, we take the mountain path which is generally the safest ascent. It is a long zig zag stony and rocky path to the summit and weather conditions near the top can be challenging at times with the mountain holding snow for a large part of the year.
The views on a clear day are outstanding and the walk is a great achievement and achievable for most reasonably fit walkers.
Please contact us for further details if you wish to include a Ben Nevis ascent in this tour.
Walk details: 16 km/ 10 miles | approx. 6 – 8 hours | ↗ 1345 m/4009 ft | ↘ 1345 m/4009 ft
West Highland Way Walking Adventure Gallery
Dogs Welcome
We welcome well-behaved doggies on this tour. Please remember that your four-legged friend will be walking the same daily distance as us humans and therefore should be a reasonably fit pooch!