You will be able to find more information underneath each walk on this page. A popup window will open up with more info, availability, price and times when we run this walk.
We are offering some fantastic 1-day walking adventures. Ideal for those wanting to get out into the hills around Ullapool and further afield with a qualified mountain leader providing a safe and fun day out.
Included is transport from Ullapool with meeting at 10 am at the Royal Hotel Ullapool car park. We offer another meeting point at the start of the walk for some walks. A lot of our walks are linear therefore two vehicles are a must with two drivers. We offer this and this is planned into our pricing.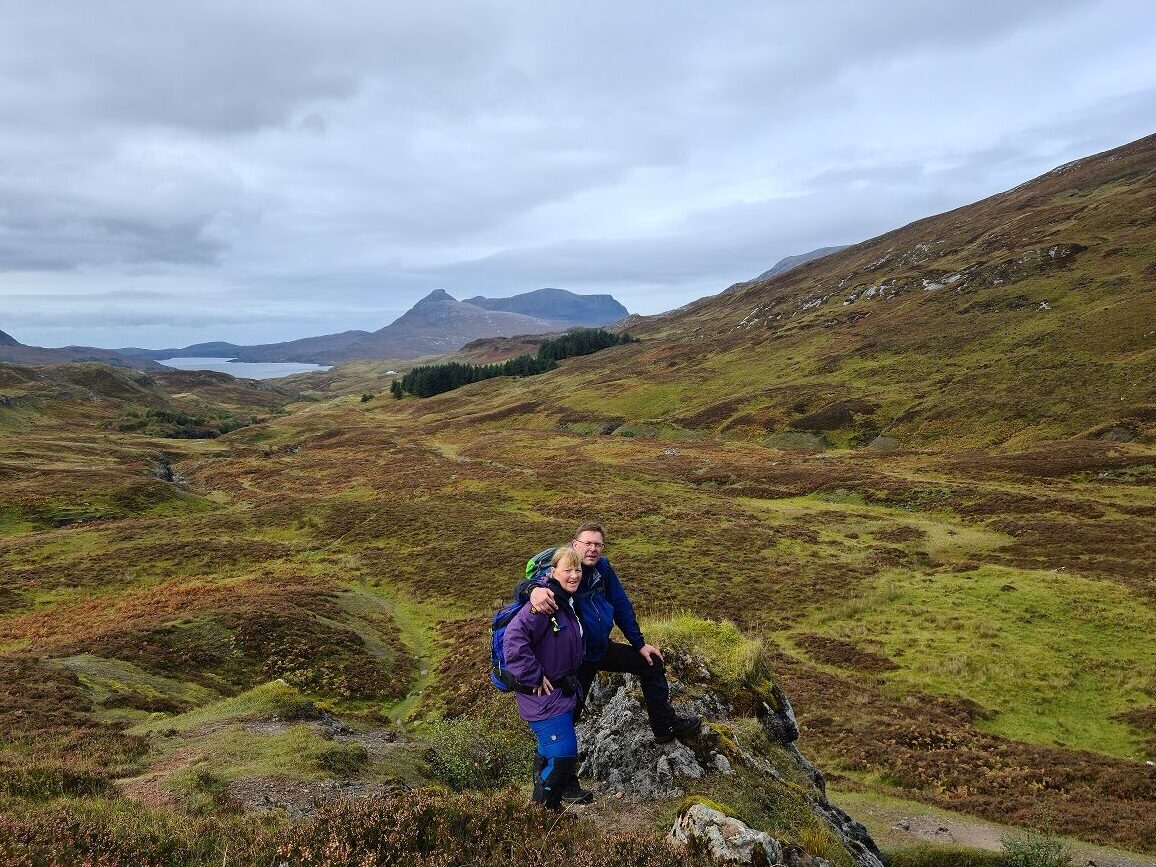 Bone caves to Traligill Caves and Inchnadampf
This walk takes you up the beautiful limestone valley of the Allt nan Uamh (Burn of the Caves) to the famous Bone Caves. Here the bones of bears, reindeer and wolves have been discovered. In past times, these majestic animals roamed in this part of the country.
From the Caves, we make our way up towards the foot of Breabag, from here we turn north walking pathless towards Inchnadampfh.
Another stunning limestone landscape opens up in front of us. The valley called Traligill named by the Norsemen, meaning valley of the Trolls. We explore this area which includes the impressive entrances of the largest cave system in Scotland and the whole area is surrounded by excellent mountain views. We finish this superb walk at the walker's car park in Inchnadamph.
Walk details: 6.5 miles, 10 km – Ascent 400 m, Descent 470 m – Walking time 4 h
Culnacraig to Blughasary via the Postie Path
Kenneth McLennan of Blairbuie normally walked this route twice a week with the mail. The postal service got established in the 1860s and called a'Gabhail na Creige – taking the rock.
This was the sole route to travel on land from Achilitibuie to Ullapool until the circular road around the north was built. At the meeting stone above Achilitibuie churchgoers and cattle drovers would meet.
Once ready they would 'take the rock' to head south towards Clachan Church at the edge of Loch Broom or the markets further south.
The 'Postie`s Path' is not for the fainthearted but has been slowly restored to make the walk easier to navigate with some stone markers to show the way.
Walk details: 6.2 miles, 10 km – Ascent 270 m, Descent 380 m – Walking time 3 – 4 h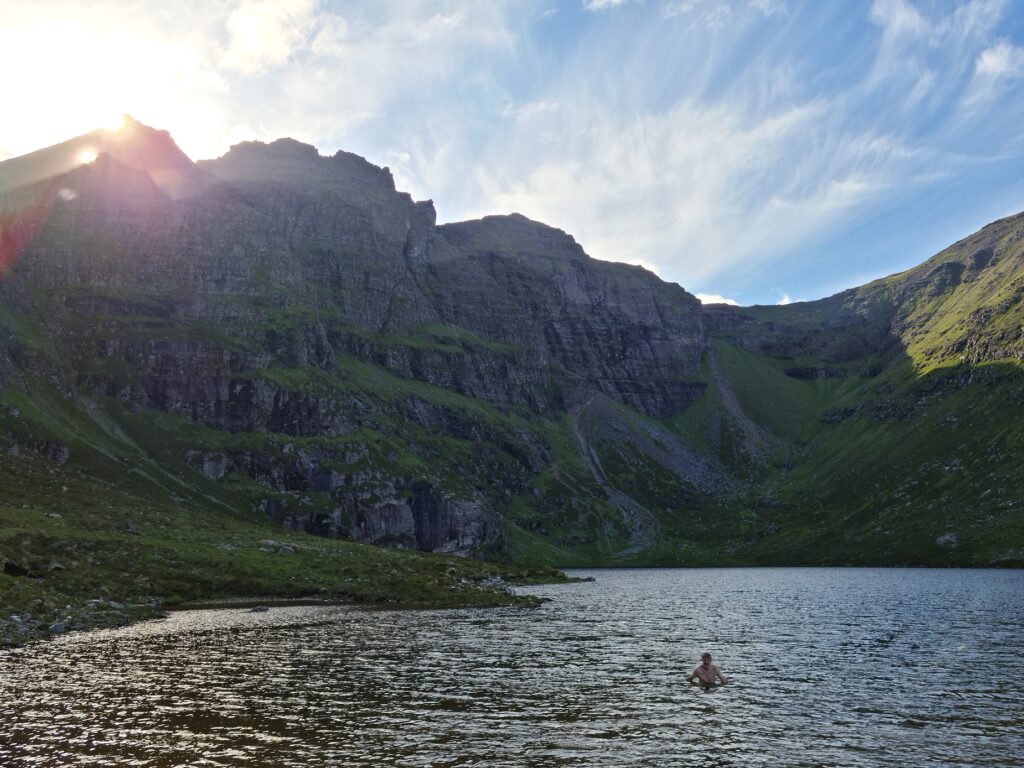 Loch toll an Lochain, a Corrie not to miss
Toll an Lochain is one of the most splendid corries in Scotland, the loch is enclosed by the sawtoothed pinnacles of An Teallach, this fabled mountain is perhaps the most impressive in Britain.
It doesn`t come lightly, and the approach is not always straightforward yet achievable for most. It comes with a vast reward once the steep-sided rock faces come into view.
We spend our lunch at the loch with magnificent views towards the Corrie and possibly observing some of the hardy scramblers who tackle the ridge. Once rested we make our way through another off-path section towards our descent track to Corrie Hallie.
A short drive away we can enjoy An Teallach beer from the local brewery in the Dundonnell Hotel before returning to Ullapool.
Walk details: 7 miles, 11 km – Ascent 500 m, Descent 500 m- Walking time 3.5 – 4 h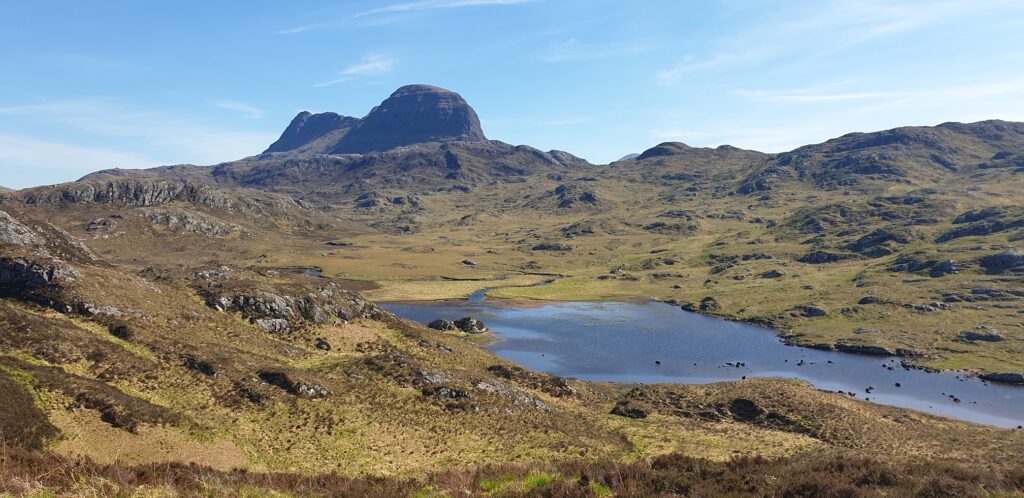 Little Assynt to Elphin
This superb linear cross-country walk heads right through the wild heart of Assynt, passing between Canisp and Suliven.
Assynt in the far North West of Scotland is literally jaw-dropping, the landscape is so outstanding and other worldly that you'd think you'd travelled to another planet.
We start the walk from Little Assynt towards Suileag Bothy. Here we can feel the remoteness which is unique to this area with a stunning view towards Suliven.
Once rested we walk south-west past the approach path for mighty Suliven towards Loch an Gainimh. The going from now will change more into a narrow rockier path.
Walk details: 12 miles, 19.5 km – Ascent 350 m, Descent 280 m – Walking time 6 h
Along the Coffin Road to Clachan Church
Two Hundred years ago this route was the main overland route connecting two coastal communities.
Clachan Church was its main church the route over the hill from Dundonnell is sometimes referred to as the 'Kirk road' or 'Coffin road'. The present church was built in 1817 near to its predecessor from 1793.
The route crosses high hill-ground and can be a difficult undertaking when the weather is coming in. Your effort will be well rewarded with breathtaking views over mighty An Teallach, the Fannichs and the two Loch Brooms.
Walk details: 6.5 miles, 10 km – Ascent 400 m, Descent 450 m – Walking time 3.5 h
Scoraig wander and boat return journey
This walk to the off-grid village of Scoraig is not only a beautiful coastal walk, but also offers an insight into the interesting and inspiring history and people of Scoraig.
We begin the day with the lovely scenic drive to just before Badrallach where the road ends and we begin our walk along the delightful coastal path with stunning views to eventually reach Scoraig.
After spending some time exploring the village, weather permitting, we take a short boat journey from the pier back to Ullapool.
We may also be lucky enough to spot some marine wildlife on our boat journey.
Walk details: 9 miles, 14.5 km – Ascent 130 m, Descent 280 m – Walking time 4 h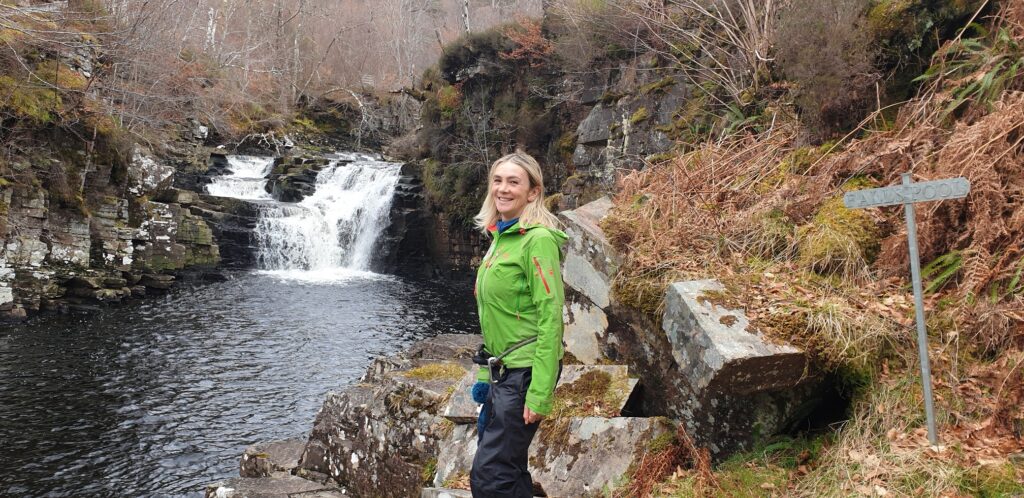 Cuileig & Gleann Mòr circuit
This is a lovely walk starting at Lael Forest Garden which is home to 200 different species of trees. We cross the road and begin our walk along the delightful river broom with its abundance of wildflowers in spring bordering the river.
We eventually reach two delightful waterfalls in the valley and gorge of Gleann Mòr. There is an opportunity for a refreshing dip or a paddle in the various pools next to the waterfalls weather permitting.
Our route then takes us slightly higher with pleasant views of the gorge as we gradually make our way back descending to the start point with time to explore the gardens.
Walk details: 4.5 miles, 7.5 km – Ascent 210 m, Descent 240 m – Walking time 2.5 h
Walks around Ullapool
---
---
We take full payment for the day walks at the time of booking. All payments will be 100 % refundable until 24 hours before the walk starts. This should give you enough flexibility regarding COVID-19.
We offer a reduction of "Adults" tickets for groups from 2 onwards and two different Family tickets for 4 & 5 members.
All Walks around Ullapool can be offered as a private departure. We can tailor-make you any day walk you prefer within a 1h 30 min drive from Ullapool. This includes Torridon, Dundonnell, Gairloch, Assynt and parts of Sutherland.
If you have any questions please feel free to contact us via Whatsapp, Facebook, email or phone call.
Pricing 2021
1 Adults (16+) – From GBP 35 pp
2 Adults (16+) – From GBP 30 pp
3 Adults (16+) – From GBP 27 pp
4 Adults (16+) – From GBP 25 pp
(Tier Pricing is only for one booking of up to four Adults)
Children (7 – 15) – From GBP 25 pp
Concession (65+) – From GBP 25 pp
Family Ticket 2 Adults 2 Children – GBP 110
All McKenzie Mountaineering – Guided Walking Adventure walks and courses are limited to 7 places, to give you a great experience and to minimise our impact on the environment.