Trip Details & Highlights
Travel in an extra small group (max. 8 guests)
Visit of world-famous Skara Brae, Ring of Brodgar, Stones to Stennes & Tomb of the Eagle
Explore and learn more on a local farm one afternoon
Walk along the highest cliffs of the UK
Admire the Old Man of Hoy from close up
Trip Details
The Orkney Isles Archipelago is engulfing about 70 islands of which 20 are inhabited and our Orkney Explorer Walking Trip explores many of them.
Much of Orkney Mainland is low lying, making it an ideal place to pull on a pair of walking boots and tackle a trail or two. There are excellent options on the Orkney mainland, with a walk along the west coast a must and the route around Mull Head in the east.
Islands like Stronsay and Sanday offer peaceful scenery, whereas places like Hoy and Rousay are perfect for the more adventurous, with steep climbs, moorland and craggy cliffs on the agenda.
We incorporate exciting walks, history and culture, and offer an inspiring insight into the local industry and the island people.
What`s included
9 nights accommodation in B&B/Hotel
minimum of 8 guided walks
All ferries throughout the trip
Transfer throughout in comfortable 9 seater van
All museum entry fees (Skara Brae, Tomb of the Eagles, Broch of Gurness)
Visit of Orkney Farm with one whisky dram and shortbread
Distillery tour and tasting
One experienced and friendly guides (qualified mountain leader)
Pick up / Drop off Inverness
What`s not included
Meals other than specified
Miscellaneous personal expenditure – drinks and souvenirs etc
Travel insurance (recommended)
Flights or trains/bus to Inverness
Dates
01/10/2021 – 10/10/2021
30/10/2022 – 09/10/2022
PRICE
B&B/Hotel: £1799 pp including dinner
B&B/Hotel: £1575 pp excluding dinner
Single Supplement: £210 pp
AT A CLANCE
Group size: 4 – 8
8 days walking
Difficulty:
Deposit: 20 % of full price
Start: Inverness 12 am
Finish: Inverness 12 pm
Extension possible in Inverness
ACCOMMODATION & MEALS
9 nights B&B/Hotel
9 breakfast
9 dinner (for included price)
Day by Day Itinerary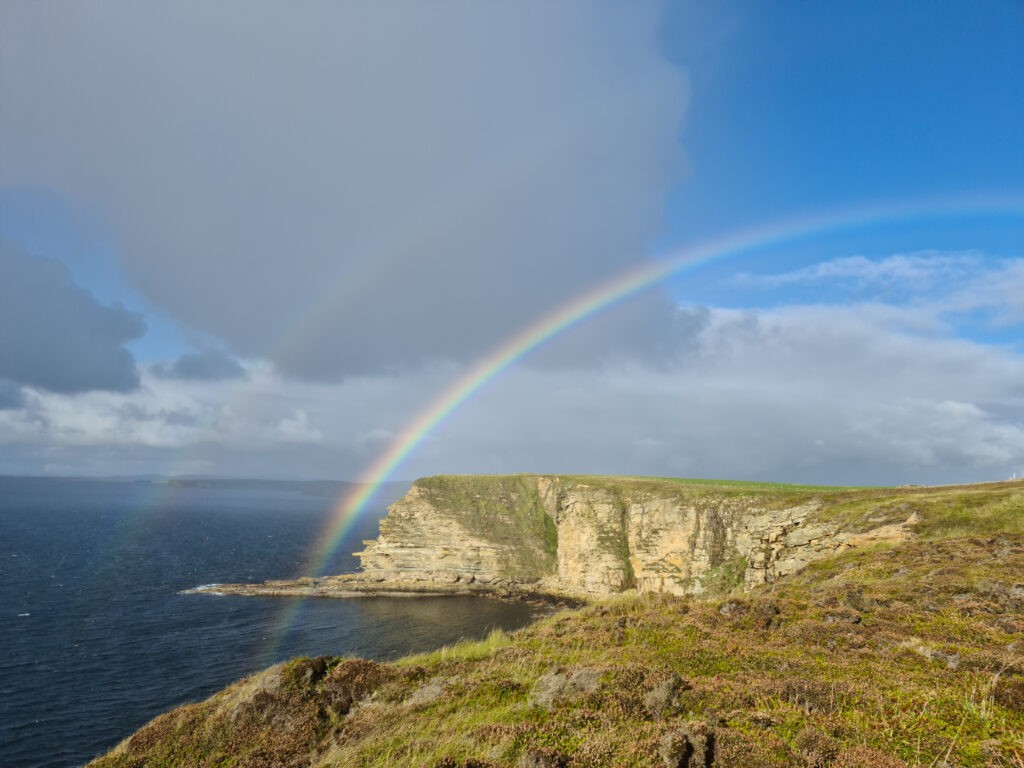 Day 1 – Transfer day to Orkney with a short scenic walk
After airport/station/Inverness city pickups we make our way towards the Pentland Ferries in Gill`s Bay.
Enroute we have plenty of option to slow down and relax with a beach, walk or just a break before heading for the ferry to South Ronaldsay.
We choose a short walk dependant on the weather and pick up times in Inverness for the group.
Walk details: Depending on weather and timing
Day 2 – South Ronaldsay & visit of the Tomb of the Eagles
Known as the Barrier Isles, Burray and South Ranaldsay lay just off the southeast of the Orkney Mainland
Today we visit the breathtakingly Tomb of the Eagles before we explore the Eastside South Ronaldsay from Newark Bay to Ham Geo.
If time allows we end the day at a stunning beach close to St.Margaret's Hope.
Walk details: 9 km/ 6.5 miles | approx. 3 hours | ↗ 200 m/650 ft | ↘ 200 m/650 ft
Day 3 – West-Side walk and Orkney Farm Visit
Today`s outing takes us to the incredible west side of South Ronaldsay overlooking the famous Scapa Flow.
After lunch, Marlene will take you under her wings for the afternoon and show you the inside outs of a Local Orkney Farm.
Walk details: 8 km/ 5 miles | approx. 2.5 hours | ↗ 100 m/330 ft | ↘ 100 m/330 ft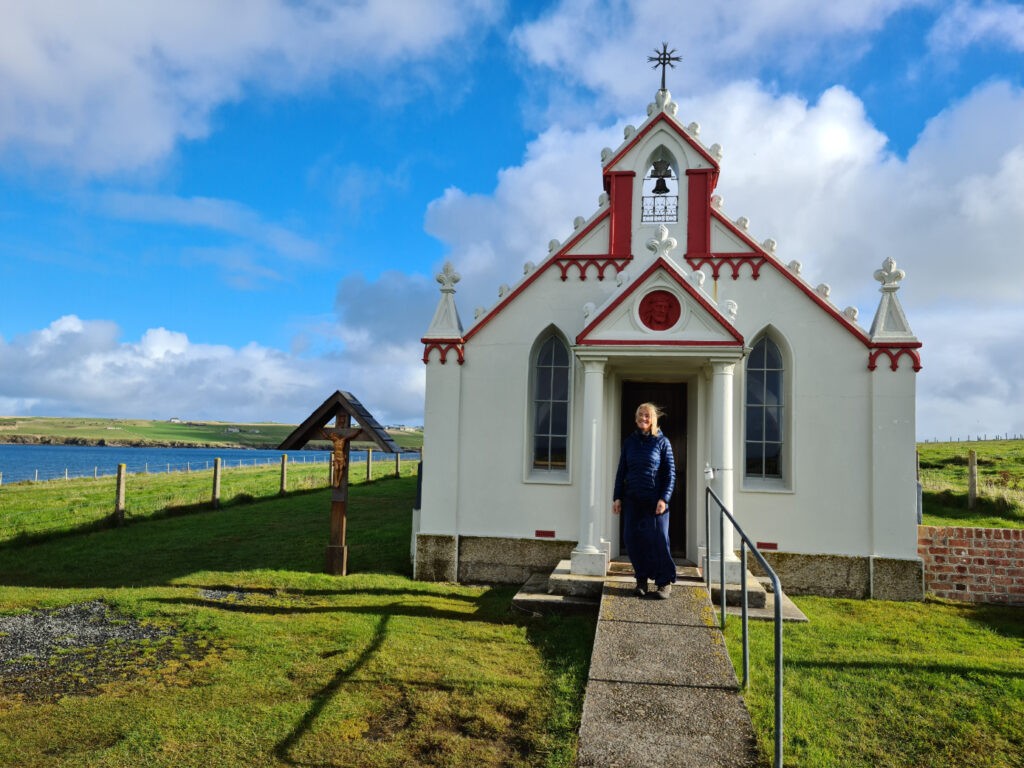 Day 4 – Italian Chapel, Scapa Distillery and Deerness Peninsula
We start the day with a visit to the Italian Chapel. The story behind it is remarkable and one not to miss.
Our today's walk is at the Deerness Peninsula with startling clifftop paths, the 'Gloup' and is diverse and exhilarating as anywhere in Orkney.
After exploring this quiet part of Orkney we make our way to Scapa Bay and the adjacent distillery Scapa for a wonderful whisky tasting.
Walk details: 10 km/ 6.5 miles | approx. 3.5 – 4 hours | ↗ 150 m/ 500 ft | ↘ 150 m/ 500 ft
Day 5 – Exploring the dramatic west coast of Orkney
Orkney's signature walk, we exploring the western coast of the Mainland. Beginning just outside Stromness we head north and with each step it gets increasingly more dramtic.
The highlights are the fractured cliffs of Yesnaby before dropping down to Skara Brae.
The views from Ward Hill over Skara Brae is an oddly timeless one.
After a visit of the 5000 years old village we transfer not far to the Ring of Brodgar and the Standing Stones of Stennes.
Walk details: 13 km/ 8 miles | approx. 4 – 4.5 hours | ↗ 150 m/ 500 ft | ↘ 150 m/ 500 ft
Day 6 – Free Day
This day is entirely up to you what you want to experience.
You may want to explore the village centre of Stromness or Kirkwall with its small shops, or you want to explore more of the history of Orkney.
Another option is to have a day trip to some of the many further islands all around Orkney Mainland.
Your guide will help you to decide and if possible will be offering transfer if needed.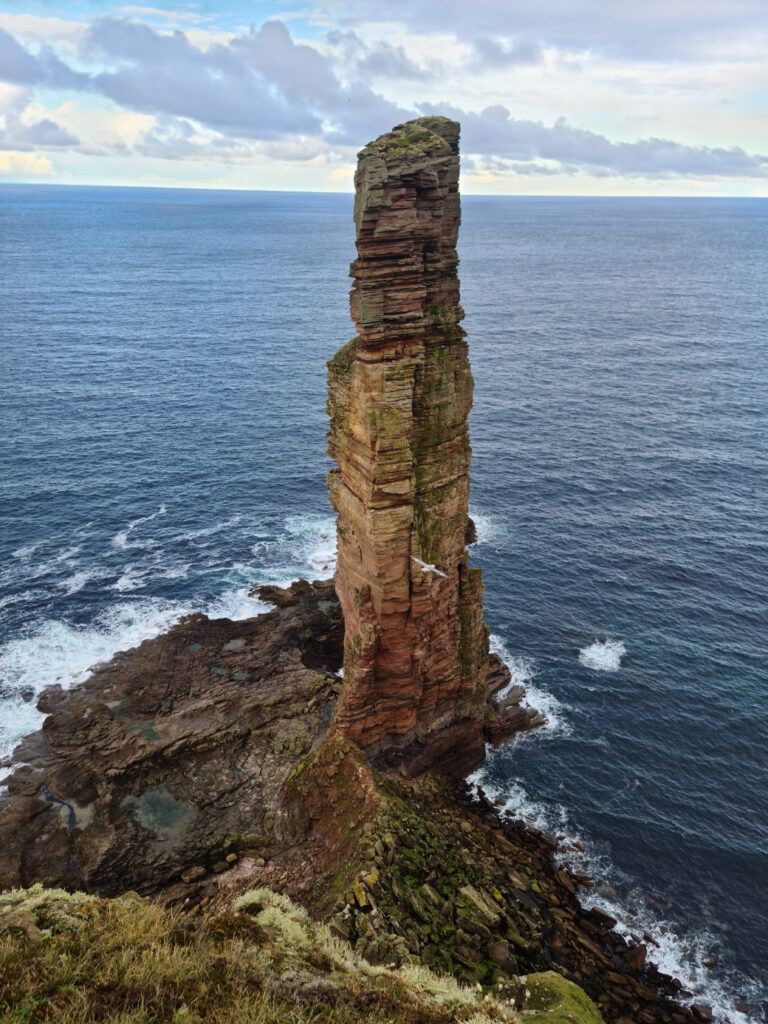 Day 7 – Walk to the Old Man of Hoy
This morning we head out to Hoy, an island unlike anywhere else in Orkney. Hoy is the wildest and most rugged of all Orkney`s islands. His interior is as close to wilderness as you can find in the UK.
The rugged sea stack Old Man of Hoy and magnificent St. John`s Head is our main focus for our day out.
Walk details: 12.5 km/ 8 miles | approx. 4.5 hours | ↗ 400 m/1300 ft | ↘ 400 m/1300 ft
Day 8 – Midhowe Broch & Chambered Cairn on Rousay
Today´s island Rousay rises abruptly from the sea into distinctively conical hills. Even the journey to the island is famous.
Eynshallow Sound has tidal races known locally as 'roosts' with speeds of up to 9 knots.
Our walk takes us into the heart of the so-called – 'most important archaeological mile in Scotland'. Every important element of Orkney's timeline is squeezed into this stretch of coast.
Depending on the ferry timetable, weather and desire we finish either the road loop or walk to the highest point of the island before returning back to the mainland and accommodation.
Walk details: 4 km/ 2.5 miles | approx. 2 hours (including visits) | ↗ 100 m/330 ft | ↘ 100 m/330 ft
Optional Walk: 5 km/ 3 miles | approx. 2 hours | ↗ 200 m/660 ft | ↘ 200 m/660 ft
Day 9 – West Coast Explorer Part Two
If we haven`t managed by now to visit the magnificent Skara Brae today is the day.
After delving into 5000 years of history we start our walk right from the beach behind the neolithic village. This is the second part of the west coast walk and finishing at Birsay.
Our late afternoon we use to visit the Broch of Gurness and if time allows Kirkwall.
Walk details: 12 km/ 7.5 miles | approx. 6 hours | ↗ 330 m/1080 ft | ↘ 330 m/1080 ft
Day 10 – Ferry and Transfer back to Inverness
Today is the transfer day to Inverness airport/train station or your accommodation in Inverness.
We take either the ferry from Stromness or St. Margaret`s Hope depending on timings.
If time allows, we visit some historic sites along the way on the Scottish Mainland.
Then it's time to say our goodbyes after what is sure to be a memorable Orkney Explorer Walking Trip!
Walk details: Depending on weather and timings
Gallery Orkney Explorer Walking Trip