Ways to spot Highland "coos" on your next walking adventure!
Scotland is best known for its rugged landscapes, magnificent castles, historical landmarks, and beautiful, picturesque coastlines. Another unmistakable part of Scotland's landscape is our beloved Highland coos!
Best known for their docile temperaments (although you'll want to keep your distance, just in case), long hairy fringes, distinguishable ginger coat, rubbery noses and prominent horns, Highland coos bring smiles to the faces of locals and visitors alike. They are undeniably a big part of Scotland's rich history and one of the stereotypical icons often associated with Scotland (along with Haggis and Tartan, of course!).
So, to inspire your future trip to Scotland (for when COVID restrictions allow), we've shared some of Scotland's top coo hotspots below so that you can make the most of them during your walking adventures. VisitScotland has also created a guide on where to spot these iconic beasts.
And if you can't wait to see them in person, then check out this Coo Cam which gives you an up-close and personal view of Highland cows in their natural environment as they bask in the glorious rolling hills and Scottish sunshine.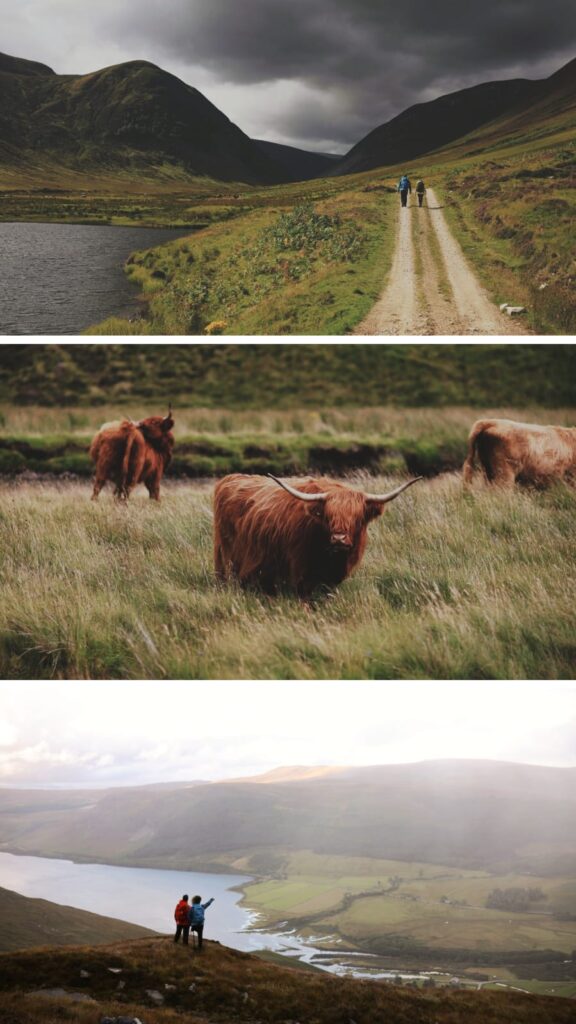 Our Cairngorms adventure includes taking you to the second-highest mountain in the UK, Ben Macdui, and the Cairngorms, the UK's largest National Park. While here, there's plenty of opportunities to see Highland coos. You'll find cattle in the surrounding fields of The Glenlivet Distillery, which is located just north of the park, while Rothiemurchus Estate in Aviemore has its own Highland coos and even a dedicated safari to see the animal's close-up!
Before heading to Ullapool to walk Stac Pollaidh, this adventure starts in Inverness. While in the town, why not go to see some Highland cattle at one of Scotland's most historic sites, the Culloden Battlefield Visitor Centre where the cows are able to be seen from a field beside the centre.
If you'd like to make the most of your trip to Scotland, our island tour incorporates Arran and the Inner Hebrides. When visiting the Island of Mull to conquer Scotland's most westerly Munro, enjoy time either side of your walk to take in the island's gorgeous surroundings and plentiful Highland Cows. The Island's Glengorm Castle is a good spot. Highland cattle also roam freely on the Isle of Islay so there'll be lots of chances to catch a glimpse while visiting some of the island's best-known whisky distilleries as part of your visit.
Our walking tour packages include guide and accommodation options and we can help you find ways to spot Highland 'Coos'. If you love the outdoors and being surrounded by Scotland's nature, you may want to tag some extra days to your trip and make the most of the rural life by staying on a farm.
---