COVID-19 Notice
We would love for you to read our blog about Ullapool and the surrounding sights and hope that it gives a brief outline of what a wonderful area we live in and the abundance of walking available, but we ask that all people who are considering visiting our wee community please do not do so until government guidelines state it is permitted to travel.
The Scottish government will update when it is deemed safe to do so with social distancing measures put in place and when local business are likely to be slowly reopening. Many thanks for your patience and understanding and we hope to welcome you back to our special wee corner of the North West soon. (22/06/2020)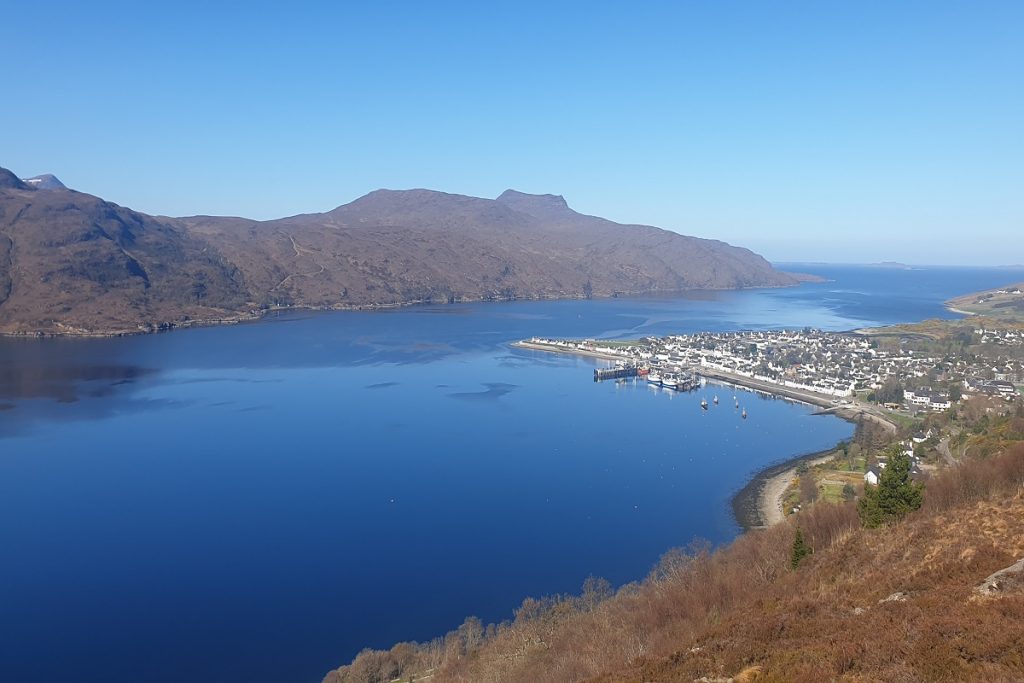 Where is Ullapool in Scotland
Situated in the North West of Scotland, just a stone's throw from some incredible mountain walks, is the picturesque and characterful village of Ullapool.
This delightful village that we are lucky enough to call home, has around 1500 inhabitants and is a very popular stop-off point for people visiting the highlands and driving on the NC500. It is becoming more usual for visitors to spend more than one day in the village as it's a great base for exploring the wonderful surroundings.
Fishing has played a hugely important role in the history of the village over centuries, herring being the main catch in the early days. It is worthwhile to spend a bit of time in the museum in the village to learn more about the fascinating history of this sometimes turbulent industry.
These days you can enjoy locally caught fish and seafood in one of the many bars/restaurants dotted around the village.
Ullapool lies just 60 miles north of Inverness and takes around 1hour 20 minutes by car. It can also be reached via bus from Inverness, with regular trains and buses serving Inverness from several towns across the country.
The drive is wonderfully scenic and there are plenty of stunning places to stop off on route for photos or short walks to stretch the legs.
Walks near Ullapool
Rogie Falls is a popular beauty spot and you can enjoy a short circuit walk here through the forest to visit the dramatic falls which can be seen from a suspension bridge.
A little further north from Rogie Falls you will find a lovely walk called the Silverbridge circuit which reveals two beautiful old stone bridges and lovely woodland. A true delight!
Further north still with a slight detour off the main road is Corrieshalloch Gorge National Nature reserve, one of the most spectacular gorges in the UK at 1.5km long, 60 metres deep and 10 metres wide. It's home to some unusual species of insect and flowers and plants. There are short walks that take in the suspension bridge and a fantastic viewpoint.
Around 7 miles south of Ullapool you will find Lael Forest garden. There are beautiful walks through the woodland here with over 200 species of trees, some of which are from all over the world and with signboards identifying the trees along the paths.
Ullapool nestles seductively into the shores of Loch Broom, a sea loch that flows into the Atlantic ocean.
A ferry runs from the terminal in the village over to the Outer Hebrides, the most North Westerly islands in the UK, and indeed when the ferry pulls into the harbour with its locals and tourists alike, the houses along the shorefront appear tiny in comparison.
Where to eat and drink
Within the village, you will find several friendly bars and restaurants serving good local produce with seafood being a speciality.
The Seafood Shack, a catering trailer with attractive outside seating area and always cheery staff has won several awards in recent years for its delicious fresh seafood cooked in innovative ways served with excellent accompaniments at competitive prices.
Other eating establishments include the Ceilidh Place, a lovely friendly good sized bar and restaurant offering a great menu with daily specials and oozing character inside and out. It even has an eclectic bookshop inside where you can browse the great literature whilst waiting on your dinner! It also has a music venue across the road with regular gigs from up and coming and well-established bands.
The Seaforth Bar and restaurant has a substantial and varied menu with something for everyone including an excellent choice of burgers, sharing platters and a good selection of fish dishes. It also hosts occasional music events.
The Arch Inn which is home to some regular live music including the wonderful Ruairidh Maclean, a renowned young musician known for his outstanding accordion-playing incorporating traditional music with a modern twist. This friendly pub/restaurant also serves excellent food in its adjoining restaurant.
Other places to eat and drink include the Royal Hotel waterfront bar with its Italian themed simple menu and a vast range of malt whiskeys and super friendly staff. The Argyle Hotel and bar is very popular with the locals and has a great wee pub menu as well as lots of live music nights each week.
The Frigate on the shore serves up some great food and drinks in comfortable surroundings and the Ferry Boat inn – known to locals as the FBI has wonderful views of the fishing boats in the harbour and boasts a cosy atmosphere and a super wee menu in its bar and adjoining restaurant.
We also have not one but two excellent 'Chippys' where you can buy fish and chips and a large choice of other hot takeaway food.
What can you do and local walks in Ullapool
Ullapool is also proud to be home to several festivals including a yearly guitar festival, a beer festival and a book festival to name but a few, as well as having several interesting and quirky shops and art galleries.
There are two fantastic bookshops and a wonderful social enterprise shop where you will find beautifully made and scented candles of all shapes and sizes.
There are some lovely local walks in and around the village including Ullapool hill which sits at 258 metres high and offers many Enjoyable tails around it and to its summit.
You are treated to some fantastic viewpoints on the many paths including superb views back down to the village and of the surrounding mountains and far out to the summer isles.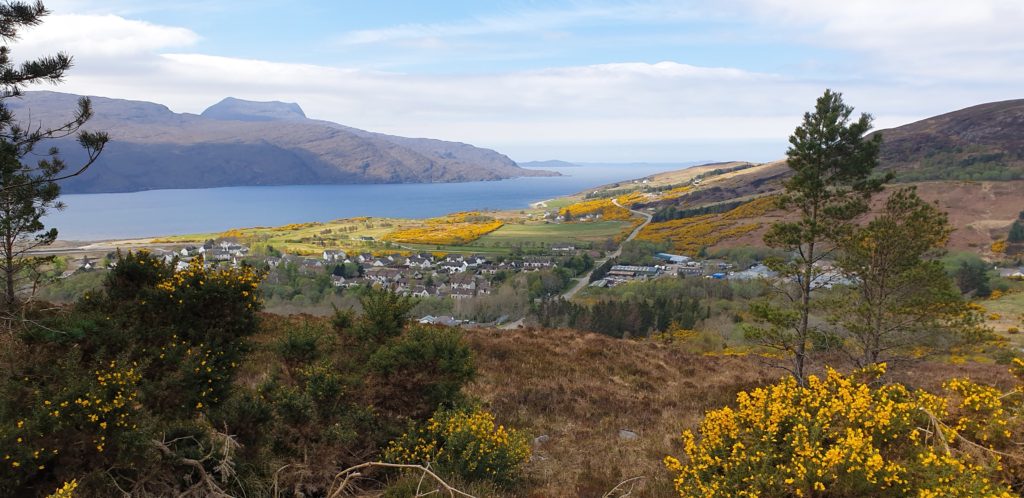 There are endless mountain climbs and walks to choose from In the surrounding area for the more adventurous including the iconic Suilven, recently featured in the film Edie, as well as Stac Pollaidh with its craggy distinctive outline and so many more Interesting Hills offering outstanding views.
For the Munro enthusiast (list of Scottish mountains over 3000 feet) there are numerous to choose from just a few miles driving distances in either direction of the village including Ben Dearg and it's surrounding tops allowing a strenuous traverse of four Munros in one very long adventurous day!
Not to forget the challenging and mighty An Teallach with It's two Munro tops joined by a scrambly and exposed ridge. The options of hillwalking adventures are endless and there really is something for all abilities!
A visit to Ullapool and the North West is simply not to be missed on any trip to Scotland and truly has something for everyone, especially those looking for a wonderful experience in the outdoors amidst some of the most beautiful scenery to be found anywhere in the UK.
Please feel free to send us any questions you may have about the area.
Finally we hope to meet you someday
We also offer a variety of guided walking trips if you prefer to explore with the experience and knowledge of a friendly qualified mountain guide. These trips include accommodation but we can also do day trips and longer trips that can be tailor-made to suit your needs, with or without accommodation included. Feel free to drop us an email or give us a call to discuss.
Ullapool – What to see and do