Shapely mountains, sparkling lochans, geological wonders and stunning coastlines make a visit to Assynt in the north west of Scotland a must do for anyone who appreciates remarkable scenery that's unlike any other landscape you are likely to come across in the country.
Suilven is one of Scotland's best known mountains, and although only standing at 723 metres high it's bulk and position as it rises from the lunar like surrounding landscape of moors and lochans, gives the impression of a much larger hill. Indeed, the steep sided ridge at 2km long has three summits, Caisteal Liath, Meall Mheadhonach and Meall Beag.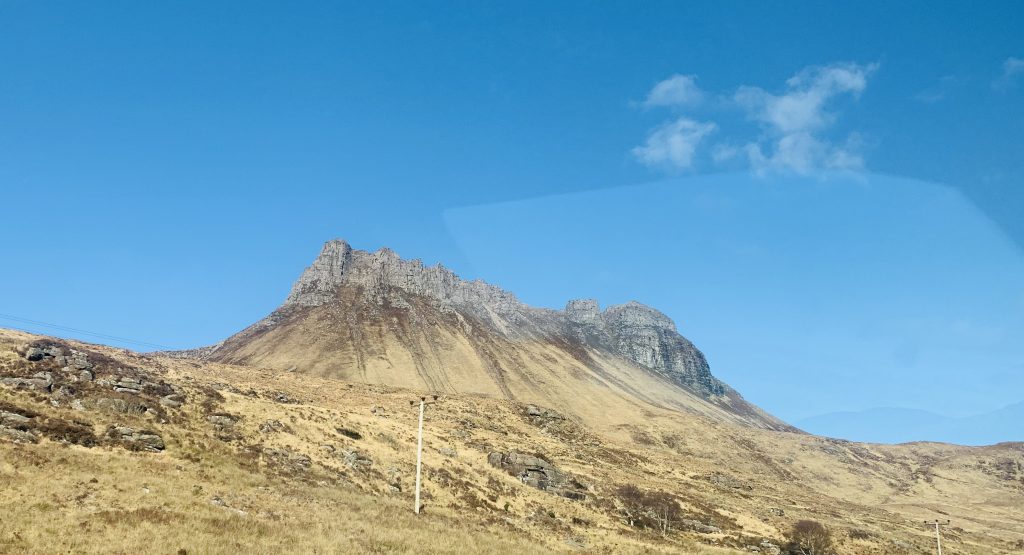 Stac Pollaidh from a distance is a remarkable vision with it's ridge line of pinnacles and gullies that fool you into thinking there is no possible walkers route up this popular hill! The ascent is reached via a path that sneaks gradually around the back off the mountain and climbs via steep but easy rocky steps to the eastern ridge and summit.
A lesser known peak in the area is Cul Mor, a twin summited mountain which is the highest in Northern Wester Ross at 849 meters.
It undoubtedly has some of the best 360 degrees views anywhere in Assynt, with the archipelago of the summer isles pushing into the Atlantic ocean, and the outline of mountains such as Stac Pollaidh, Suilven and Coigach to name but a few, as well as endless tiny lochans dotting the moorland. Simply spectacular!
A short distance from Cul Mor lies Knockan Crag National Nature Reserve, part of the North West Highlands Geopark. It's home to an interpretation centre that offers a great insight into the unique and fascinating geology of the area.
As well as being hugely informative and interesting for adults, it's a great place to introduce kids to geological history with it being interactive, clearly explained and user friendly.
There are also three delightful way – marked trails at the Nature reserve, with sculptures and points of interest that bring the geological history to life.
From its Geology to it's beaches, Assynt never fails to impress and Achmelvich beach and Clachtoll beach are regarded as two of the most unspoilt in the area with their pristine soft white sands and tempting turquoise sea. From these delightful beaches, you can enjoy some lovely walking routes offering snippets of interesting history of ancient brochs and even a hermits castle!
All in all, the wonders of Assynt are truly inspiring. I've named just a few! There is so much more to explore and discover that will make you want to come back again and again.